Cloudflare Automatic Platform Optimization (APO) to speed up websites for WordPress caching
I have always been a loyal user of Cloudflare. In addition to being a DNS hosting, I can provide websites with faster and more stable speed and security protection functions. Cloudflare Automatic Platform Optimization (APO) to speed up websites for WordPress caching
Later, I also became a domain name registrar  Cloudflare Registrar. Domain registration and renewal prices close to the cost price, including functions such as SSL certificates, DNSSEC, or WHOIS privacy protection, are additional services that do not require additional price increases.
If you are using a WordPress site, I have also written about Cloudflare's WordPress plug-in tutorial. Just download and enable it and connect to your account to quickly integrate Cloudflare's various functions.



Two months ago, Cloudflare announced the launch of an " Automatic Platform Optimization " ( APO ) function. Starting from the most used WordPress, it provides faster browsing speeds for websites through APO, and Time to First Byte (TTFB) time is reduced by 72%. 
First Contentful Paint is reduced by 23%, and the desktop speed indicator is reduced by 13%. According to the test results provided by Cloudflare, it is found that even if no content delivery network (CDN) is used, the speed can still be significantly improved.
If you have ever studied how to use Cloudflare to speed up WordPress, increase the load, or get more people online at the same time, you should remember that in the early days, you used Page Rules to set the "Cache Everything" parameter to force Cloudflare to cache all pages, or later use  Cloudflare Workers.
Methods to improve the speed and performance of WordPress, and these methods are nothing more than temporarily storing pages and static files in the Cloudflare Edge Network so that you don't have to go back to the original server every time you load it. The effect of improving loading speed and reducing server load.



This time Cloudflare launched Automatic Platform Optimization (APO) to make the original complex and difficult to understand the configuration process simpler. Just install the Cloudflare plug-in in WordPress, turn on this function and return to Cloudflare to check whether the connection is completed and it will automatically turn on this function.  
What's even better is that Automatic Platform Optimization (APO) itself is a caching effect. You can remove the original website caching plug-in, and Cloudflare will do the caching of the website for you.
It should be noted that the APO for the WordPress option must pay an additional $5 per month on the Cloudflare free plan. If you are already a Professional, Business, and Enterprise paid plan, there is no additional charge. This feature will not charge for the traffic used, there are no usage restrictions, and there is no hidden price that surprises users.
Cloudflare
https://www.cloudflare.com/zh-tw/
Use teaching
The following Cloudflare's Automatic Platform Optimization (APO) function is only useful for self-hosted WordPress. For compatibility with existing plug-ins, please refer to the " Understanding Automatic Platform Optimization (APO) with WordPress " page in the Help Center. In addition, there are Mentioned that if you have a free plan, you must pay an additional $5 per month to use it.
STEP 1
If you haven't registered to apply for Cloudflare, you can refer to my teaching: Cloudflare site builders must have free CDN, DNS hosting service setting teaching, website loading acceleration, saving traffic and preventing malicious attacks. You can find this option in Cloudflare's "Speed". We Don't open it here, but choose to enable this feature through the WordPress plug-in.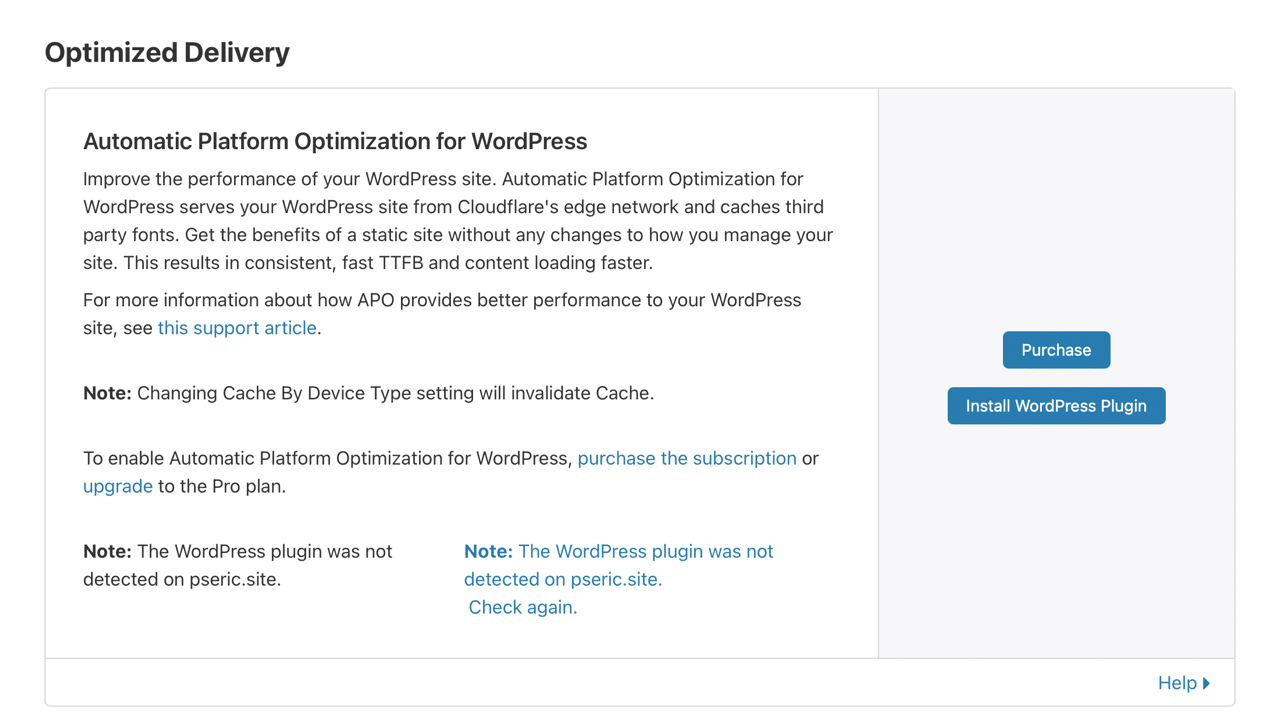 STEP 2
Search Cloudflare from the " plug-in " function of the WordPress control panel to install the official plug-in.
After installation, enable it, click " Settings " or find this plug-in related option from " Settings ".
STEP 3
In the plug-in settings of WordPress, you need to link the website to Cloudflare, click Sign in and  enter the API key you will get in the next step (this set of API Key is as important as your password, remember not to be obtained by others).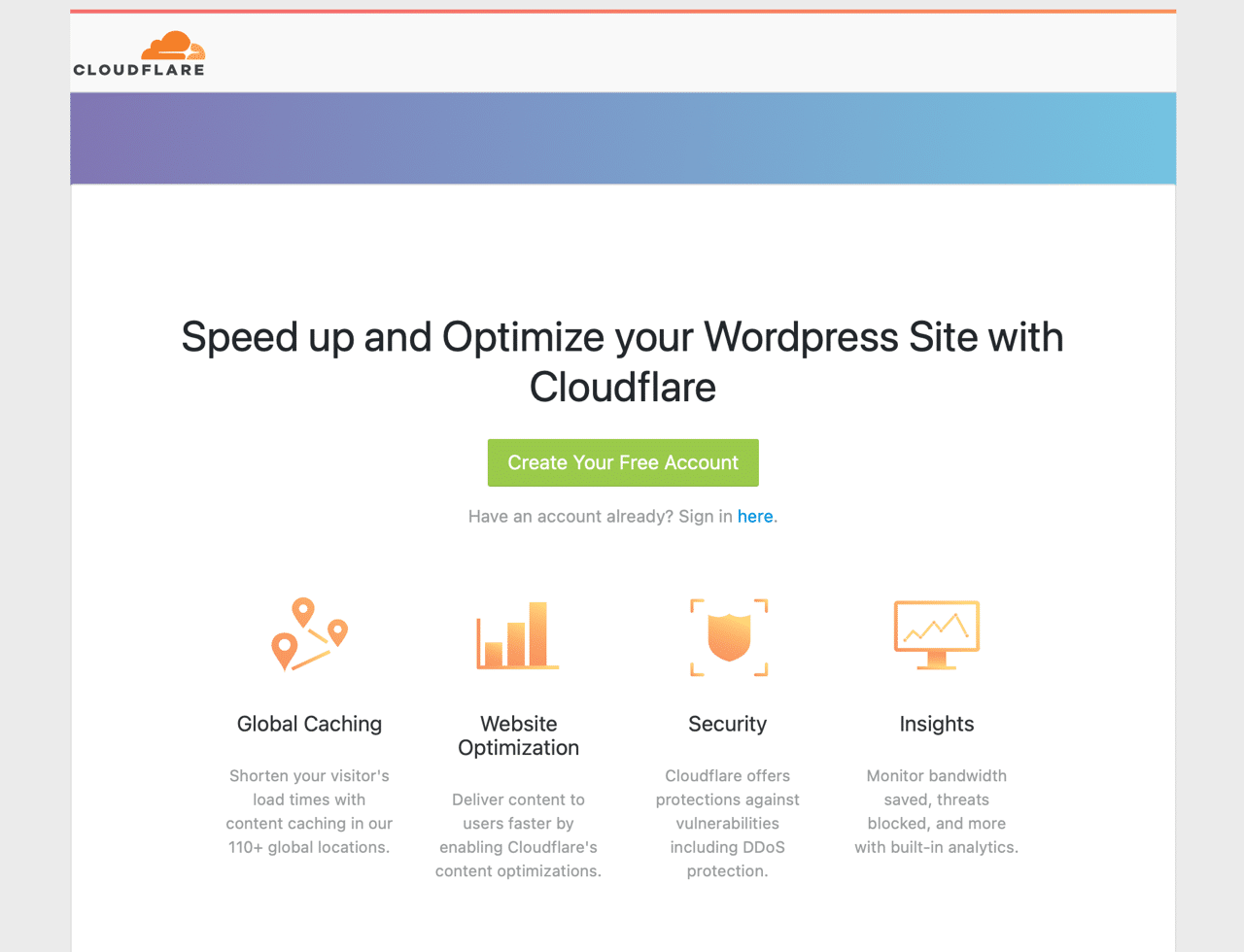 STEP 4
Back to the Cloudflare console, click " My Profile " in the upper right corner and select " API Tokens " in the upper menu. Here we first click the blue " Create Token " to create a new API key. This is to let WordPress The plug-in verifies and uses your account.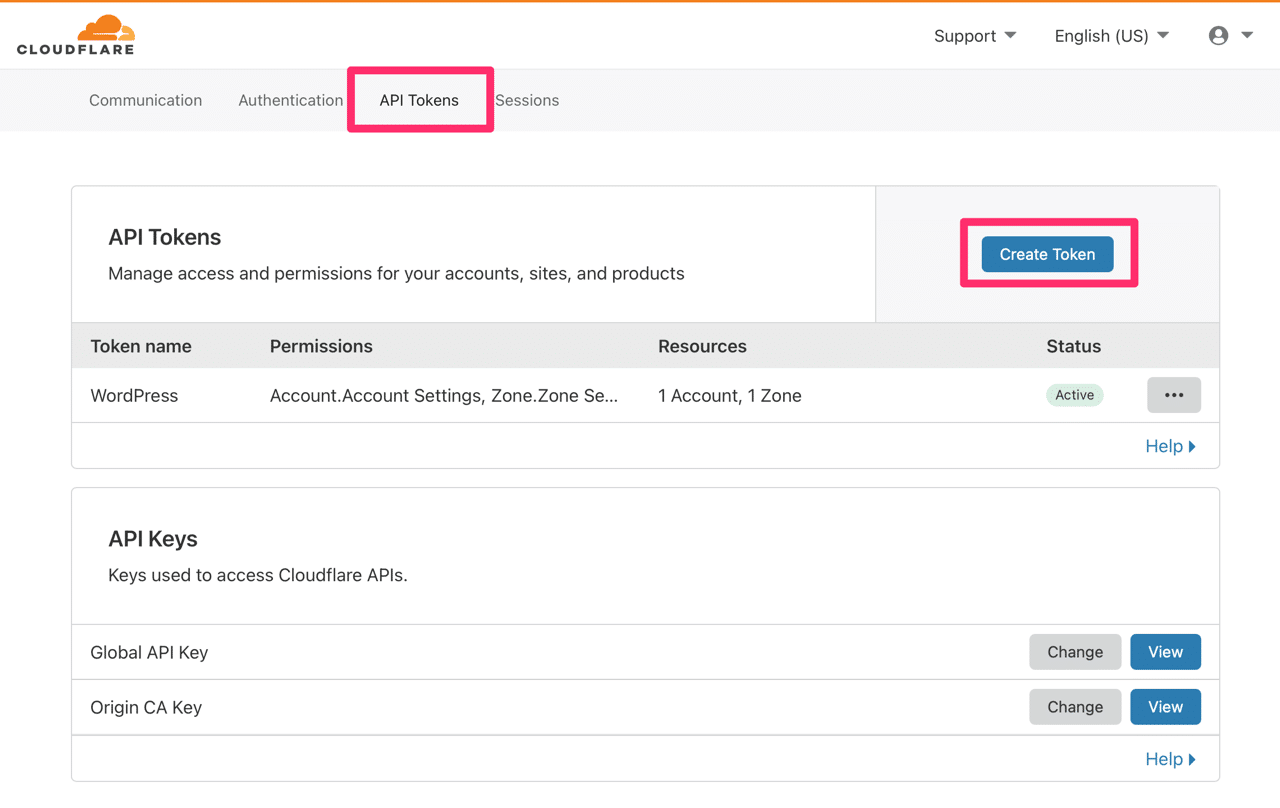 When creating an API token, select the " WordPress " template from the bottom .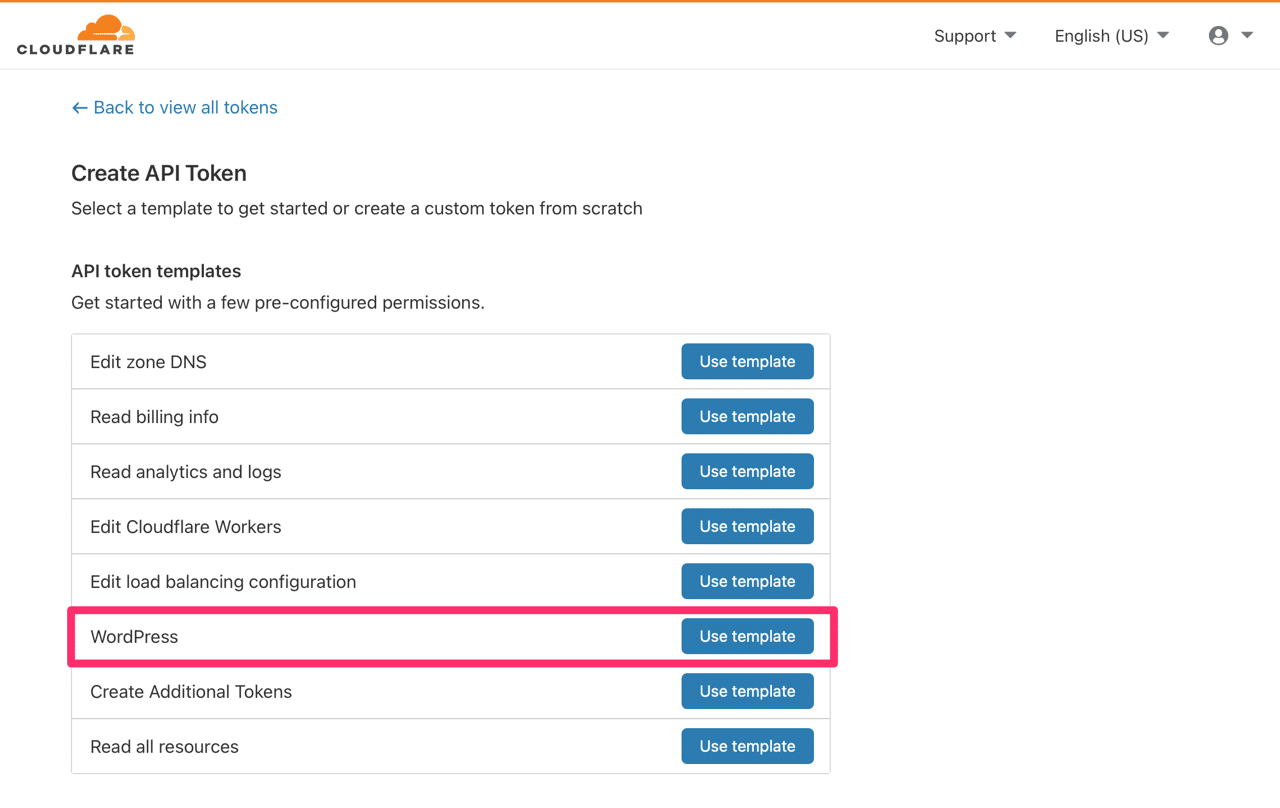 Then select your Cloudflare account and the website you want to set up with the two options " Account " and " Zone ".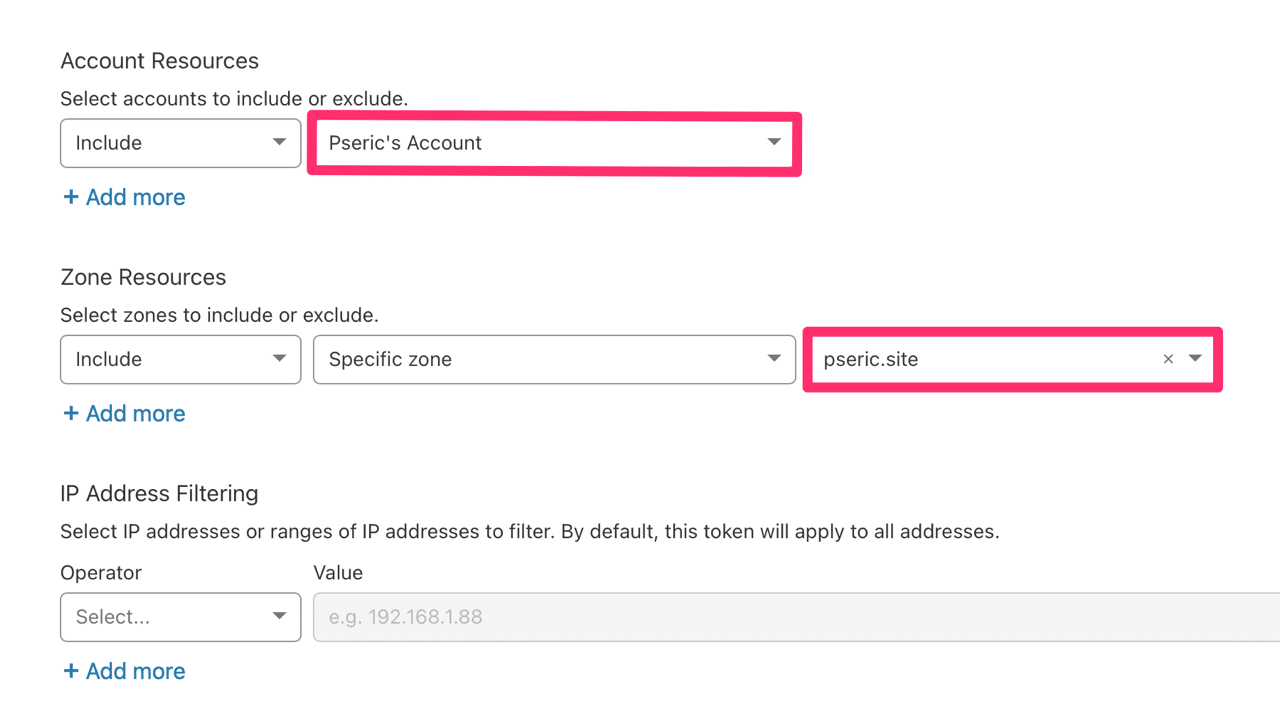 Finally, check the settings. If there is no problem, click the blue " Create Token " below to create this key.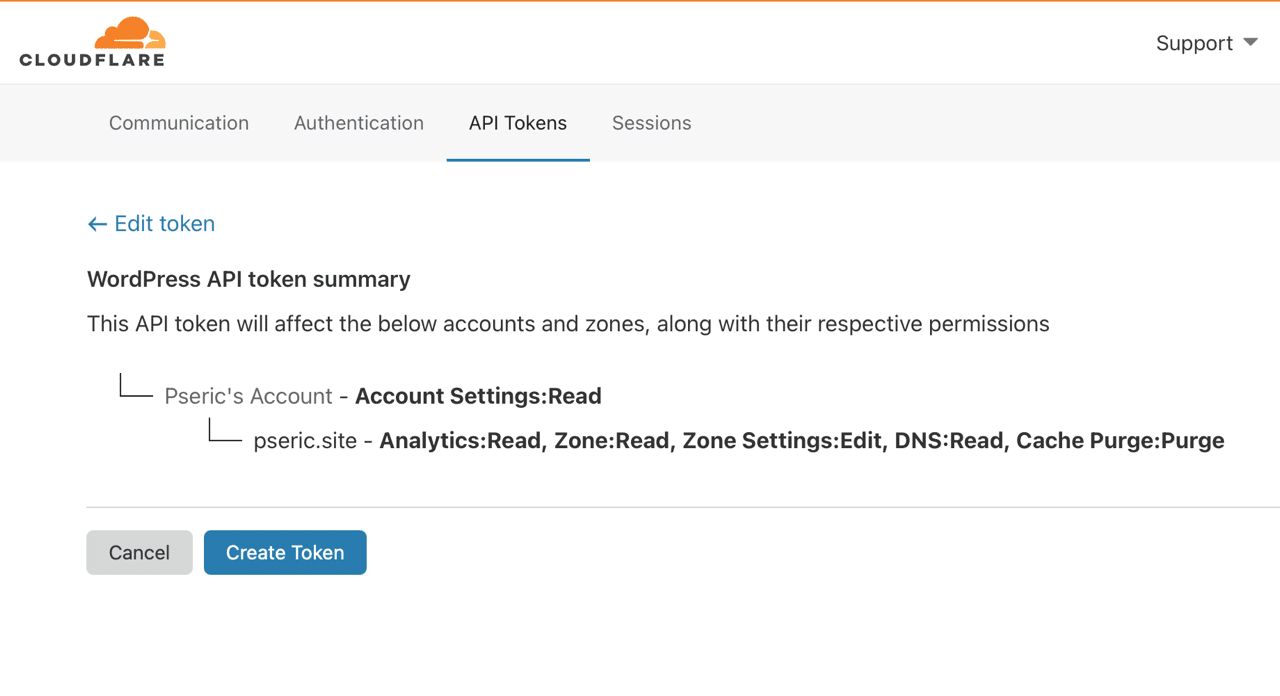 In this way, Cloudflare will generate an API key for WordPress. Click Copy to copy the code.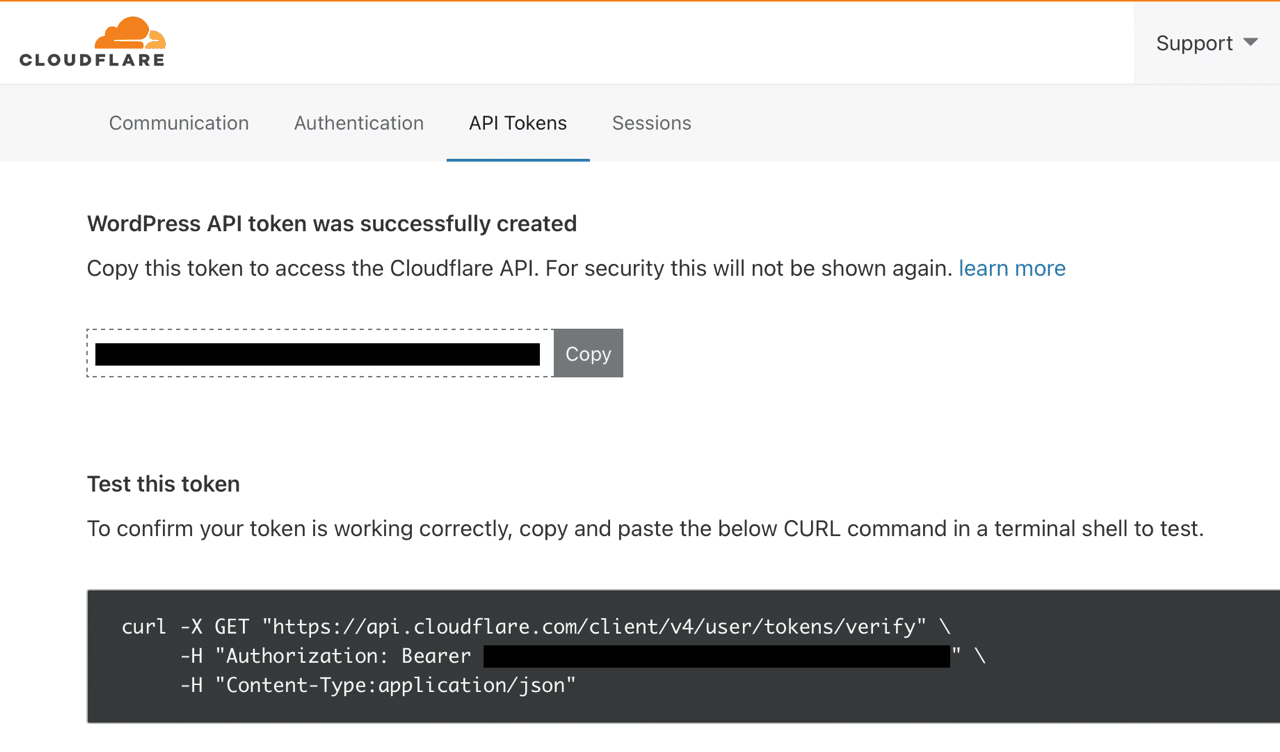 STEP 5
Go back to the WordPress plug-in setting screen, enter your Cloudflare Email and the API Token you just generated, and click " Save API Credentials " to complete the link between the website and Cloudflare.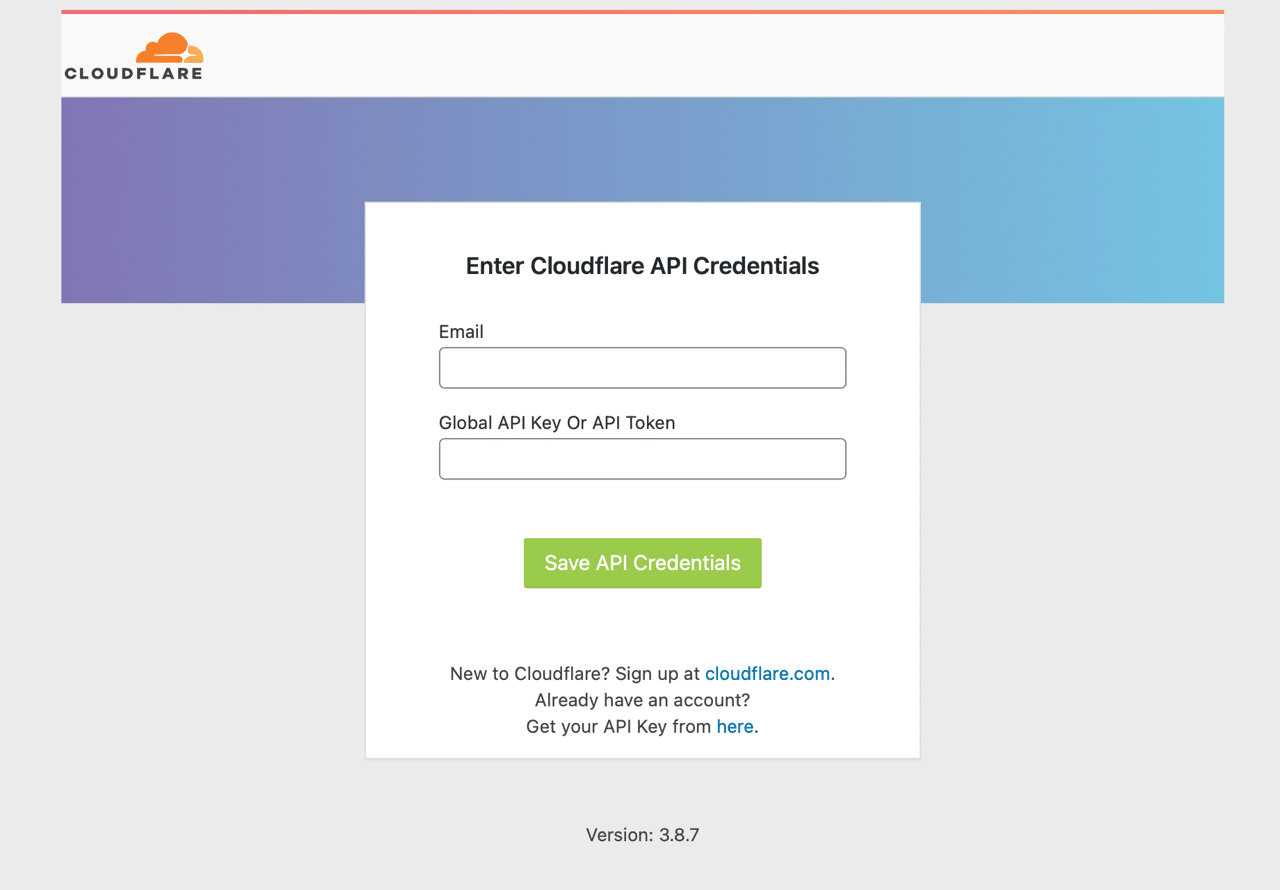 STEP 6
After saving, turn on the Cloudflare plug-in setting function of WordPress, and turn on Automatic Platform Optimization! If you are using the free plan, you should see a payment option, and you must set the credit card payment method before proceeding to the next step.



There is also a " Cache By Device Type " option under the APO option . If your website provides different versions for desktop and mobile devices, remember to check this option to create individual cached content.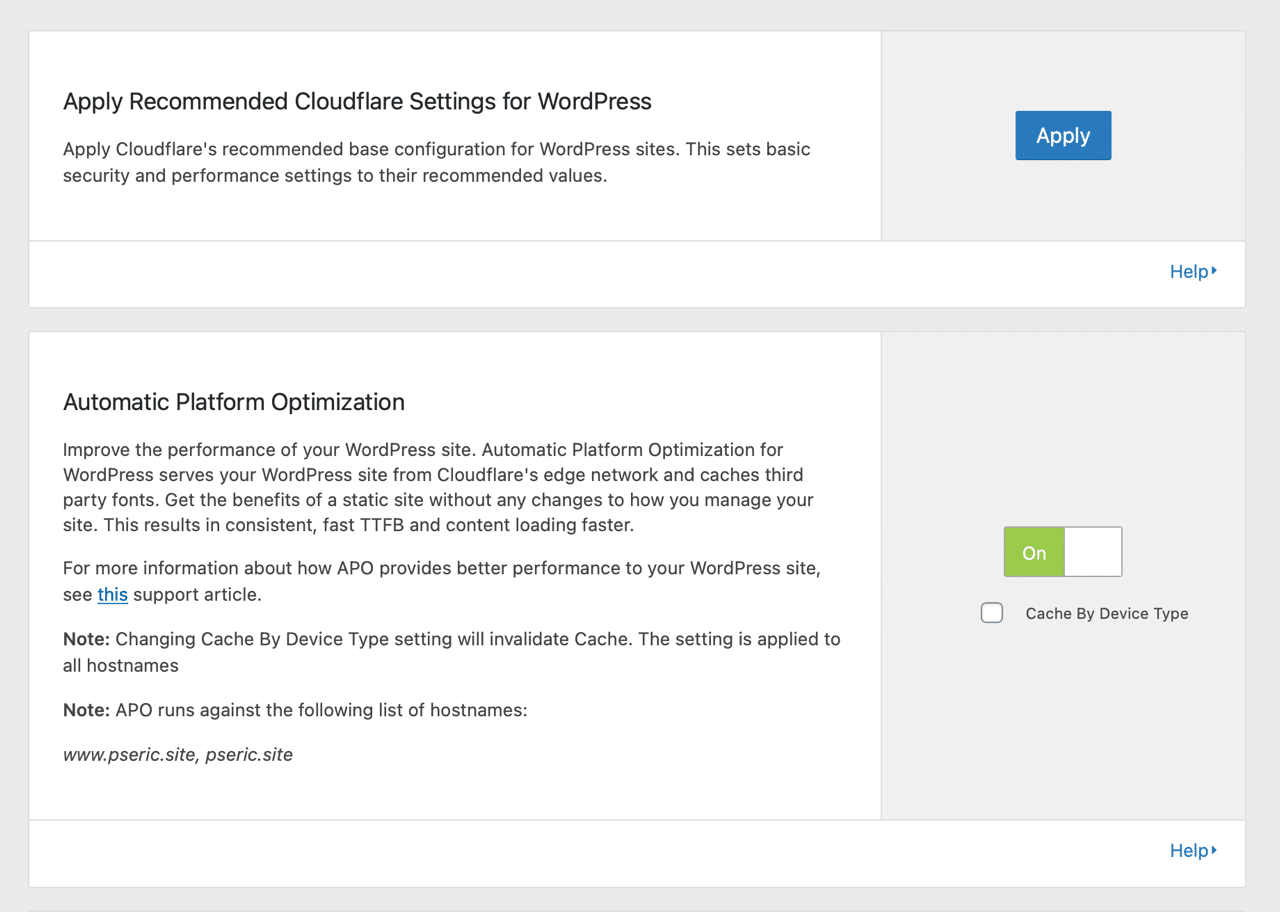 Back to the Cloudflare console, you will also see the Automatic Platform Optimization (APO) option enabled, indicating that the user will be reminded that this feature will take effect on those URLs.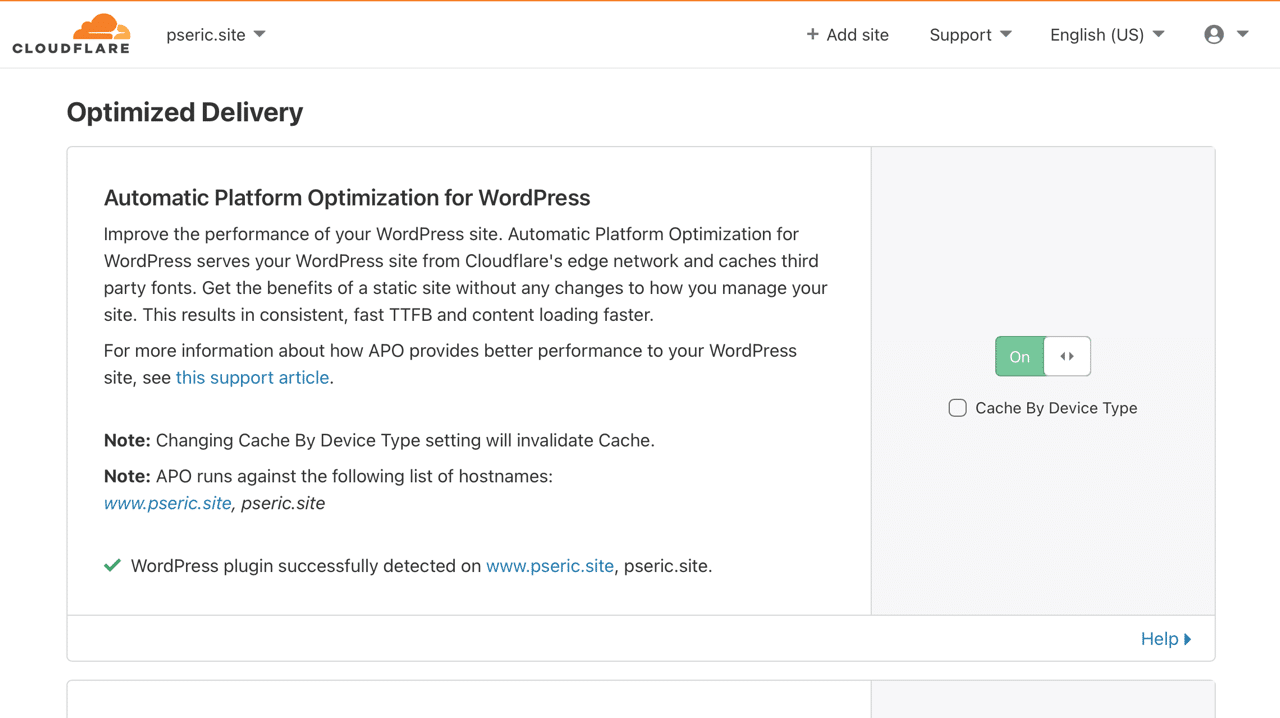 STEP 7
Of course, the main purpose of Automatic Platform Optimization is to create a cache on Cloudflare's Edge Network, so that visitors do not need to make a request to the original server. If you originally have a cache plug-in, remember to disable it to avoid problems.



So how do you confirm that APO has successfully run in WordPress? Incognito, to look at from the Developer Tools section of the page headers there cf-apo-via, cf-cache-status: HITand so the word, on behalf of any page already cached on the edge of the web CF. APO will automatically clear the cache when an article or page is updated to keep the page up to date.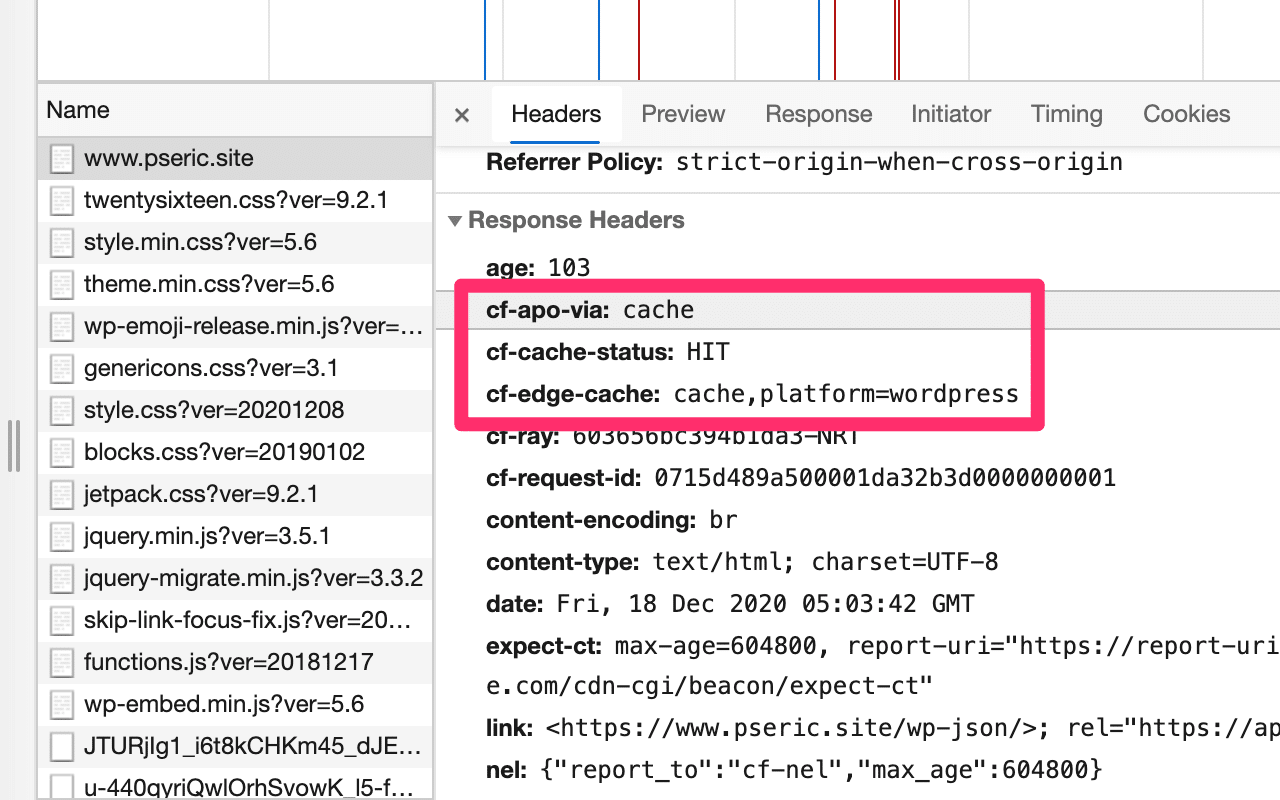 Three reasons to try:
Cloudflare's new Automatic Platform Optimization acceleration function, paid plans can be used for free
Install the Cloudflare plug-in in WordPress, you can quickly enable it as a website cache after setting
Replace the original WordPress cache function, and you can also create individual caches according to device types