Enable Cloudflare Browser Insights to collect website
In order for the website to grow in a good direction, it is usually necessary to continue to experiment, adjust and analyze to find out the items that can be optimized. Enable Cloudflare Browser Insights to collect website It is also important to maintain the freshness of the website content. In my experience, I am as good as most webmasters.
Check website scores through Google PageSpeed ​​Insights, adjust by referring to the instructions provided by the results, or use Google " Web. dev " to help developers create more modern web pages. In fact, the pursuit of scores has no real meaning but solves known problems on the website. It is more helpful. After all, every case is very different, and the optimization methods that are useful for other websites may not be suitable for you.
I will mention website optimization because I'm going to introduce Cloudflare's " Browser Insights " function. This is a tool launched by Cloudflare at last year's Birthday Week. It is free for all Cloudflare plan users. In short, After opening this function from the control panel, a piece of JavaScript code will be automatically added to each HTML page, and Browser Insights will start to collect real-time information and graphically display the real-world performance indicators of the webpage.
Browser Insights In fact, I long ago at the site enabled, wanted to write this article highly recommended because of the recent update to make this feature can analyze Google's Core Web Vitals relevant indicators, including the maximum content drawn (Largest Contentful Paint, LCP ), the first input delay (first input delay, FID) and cumulative layout transfer (cumulative layout shift, CLS), for it to improve the site helpfully.
Google announced that Core Web Vitals will be listed as a search ranking factor as early as 2021. It is also one of the few algorithms that Google has publicly explained. The importance is self-evident. Users can collect and analyze website information through Browser Insights.
The index score, if you want to optimize your website, remember to make good use of this function (of course, if you have to use the Cloudflare service), it will help you find website problems.
By the way, I mentioned earlier that the Simple Ops website performance monitoring service can also monitor Web Vitals-related values, but some items must be upgraded for a fee, which is also a pretty good choice. If you want to know the performance of the site's " core indicators of site experience ", you can also open Google Search Console, and you can now view related reports.
Cloudflare
https://www.cloudflare.com/
Introducing Browser Insights
https://blog.cloudflare.com/introducing-browser-insights/
Use teaching
For Cloudflare related operations and settings, please refer to the following tutorials:
Cloudflare site builders must have free CDN, DNS hosting service setting teaching, website loading speed up, saving traffic, and preventing malicious attacks
Cloudflare free WordPress plug-in teaching, one-click to quickly apply optimized settings for the website
Cloudflare registers the cheapest domain without a price increase and integrates free CDN and SSL certificates
STEP 1
Turn on the " Speed " function of the Cloudflare control panel and click " Browser Insights " to enable this tool in the settings.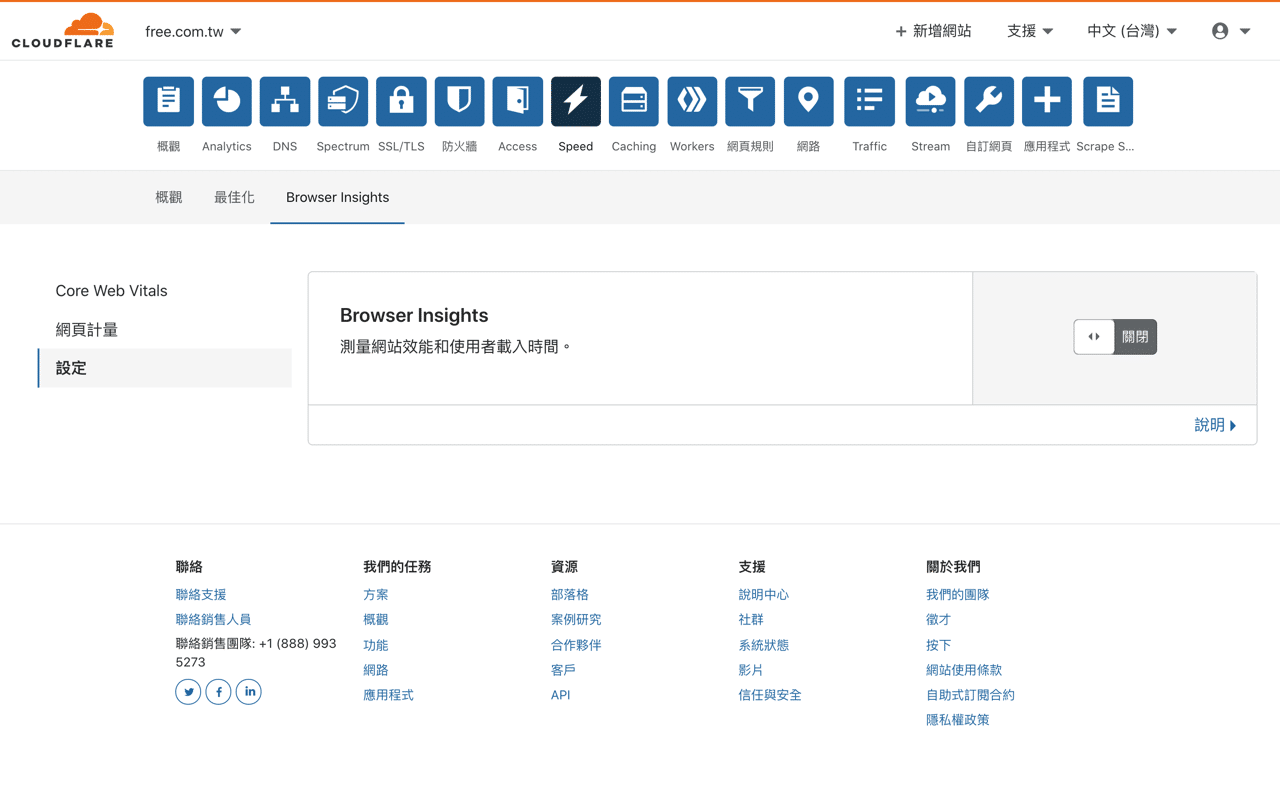 STEP 2
When enabled Cloudflare will be automatically added to the page in a piece of JavaScript code to collect data, users do not carry out any operation, will in all sub-domains, all paths open measurements By default, if you are a WordPress user can recommend wp-adminis Add "rules" to the path of the website console to exclude measurement (this feature requires paid users to use).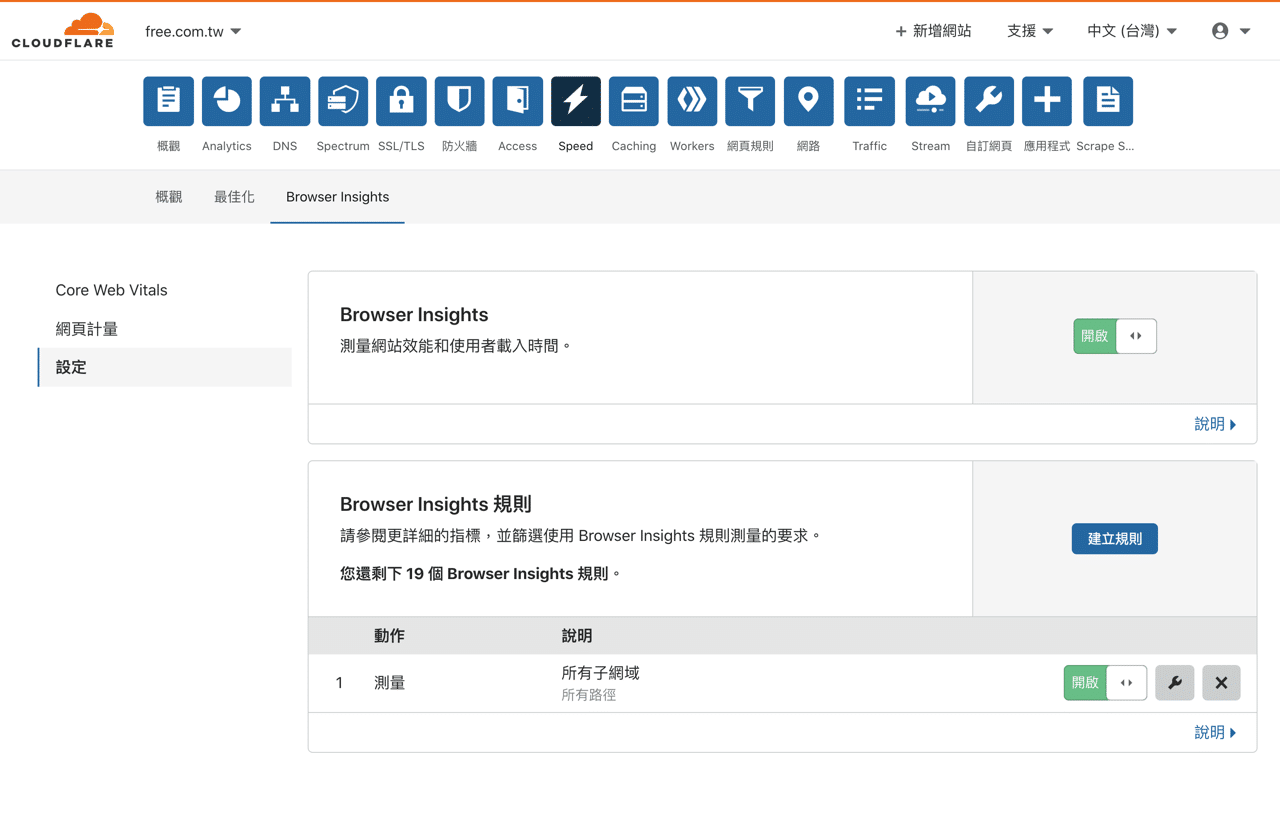 STEP 3
According to the instructions, Browser Insights will only display 10% of the page load data. If the amount of data collected at the beginning is insufficient, you may have to come back later to see the report.
From the " Core Web Vitals " of Browser Insights, you can see the maximum content rendering (LCP), first input delay (FID) and cumulative layout transfer (CLS) related information, which will be divided into three levels: good, need improvement and bad. They are reflected on those websites respectively.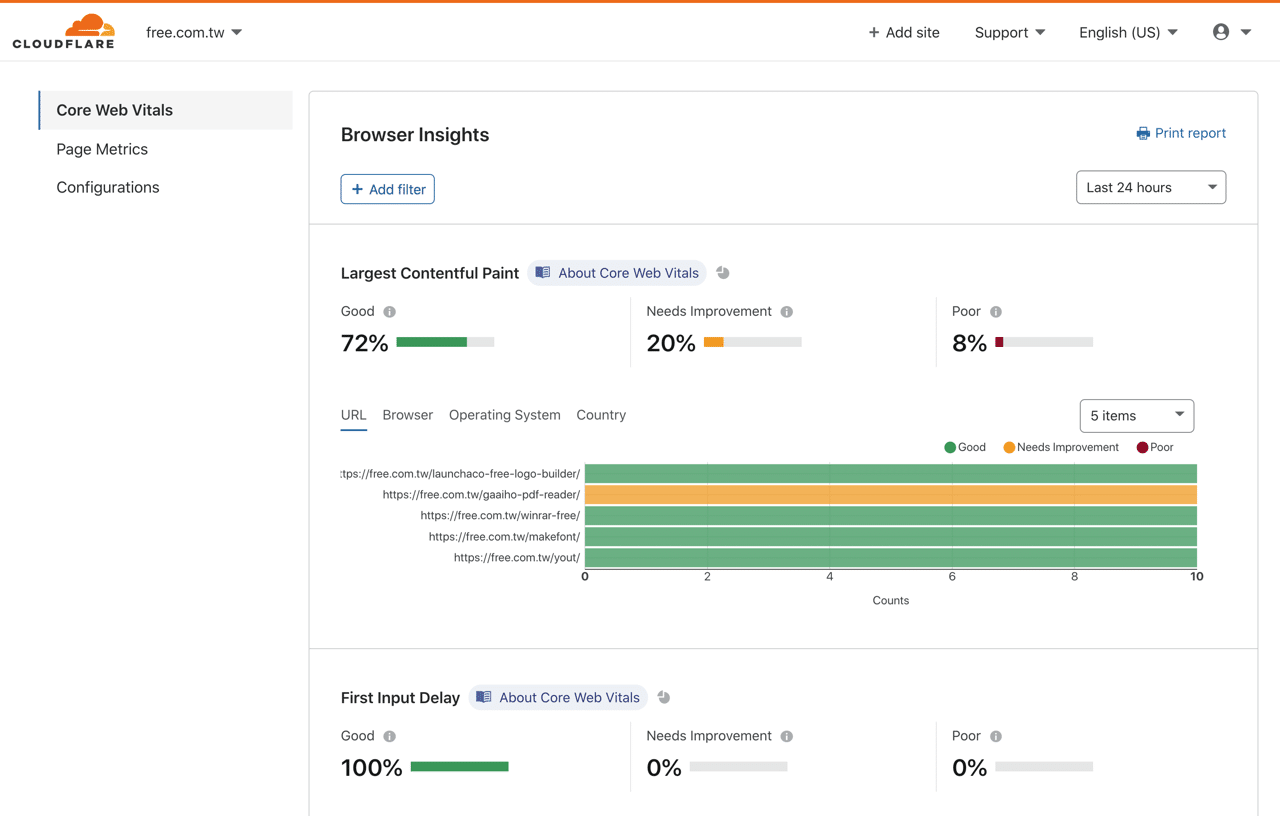 STEP 4
Select the time interval of the data to be presented from the upper right corner. The default is the last 24 hours, and it can be adjusted to the last 30 minutes, 6 hours, 12 hours, the last week or the last month. You can also customize the displayed time period as needed.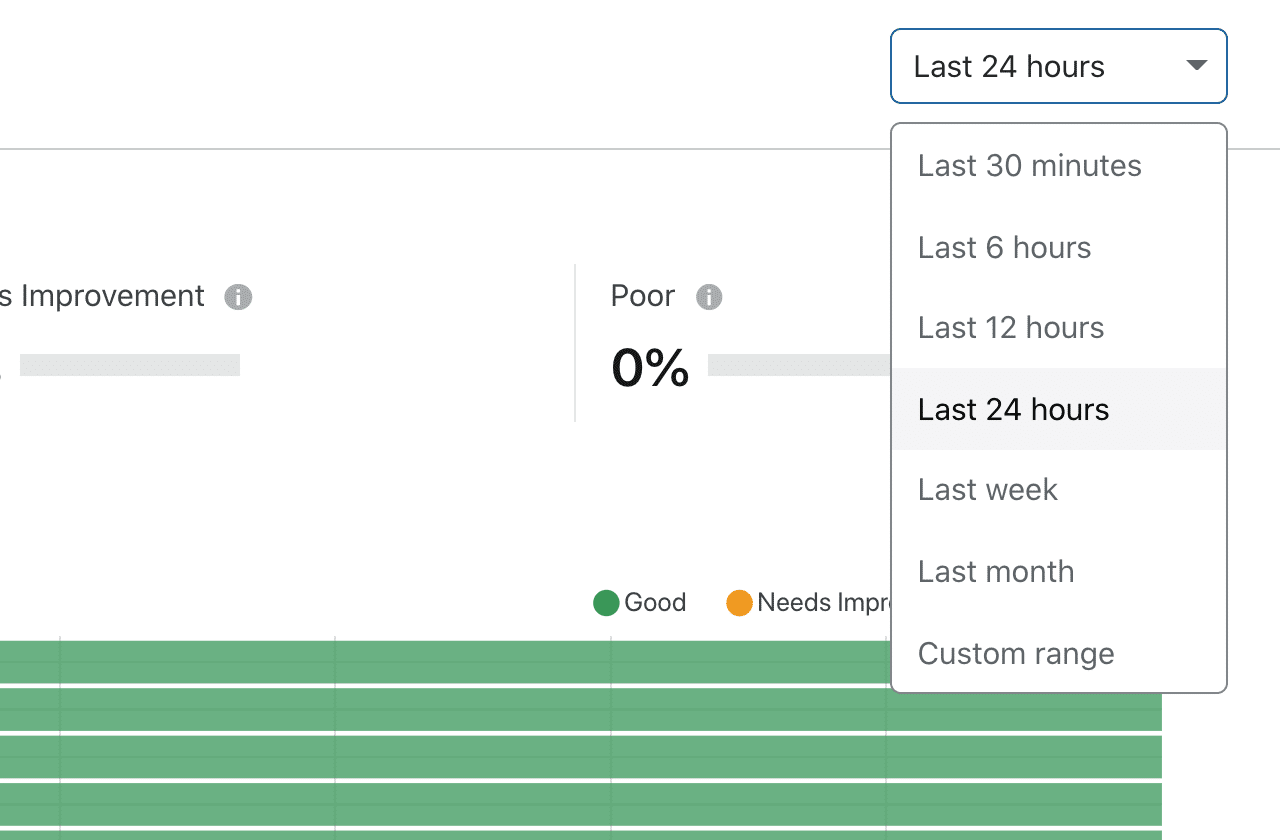 You can also set how many items to display.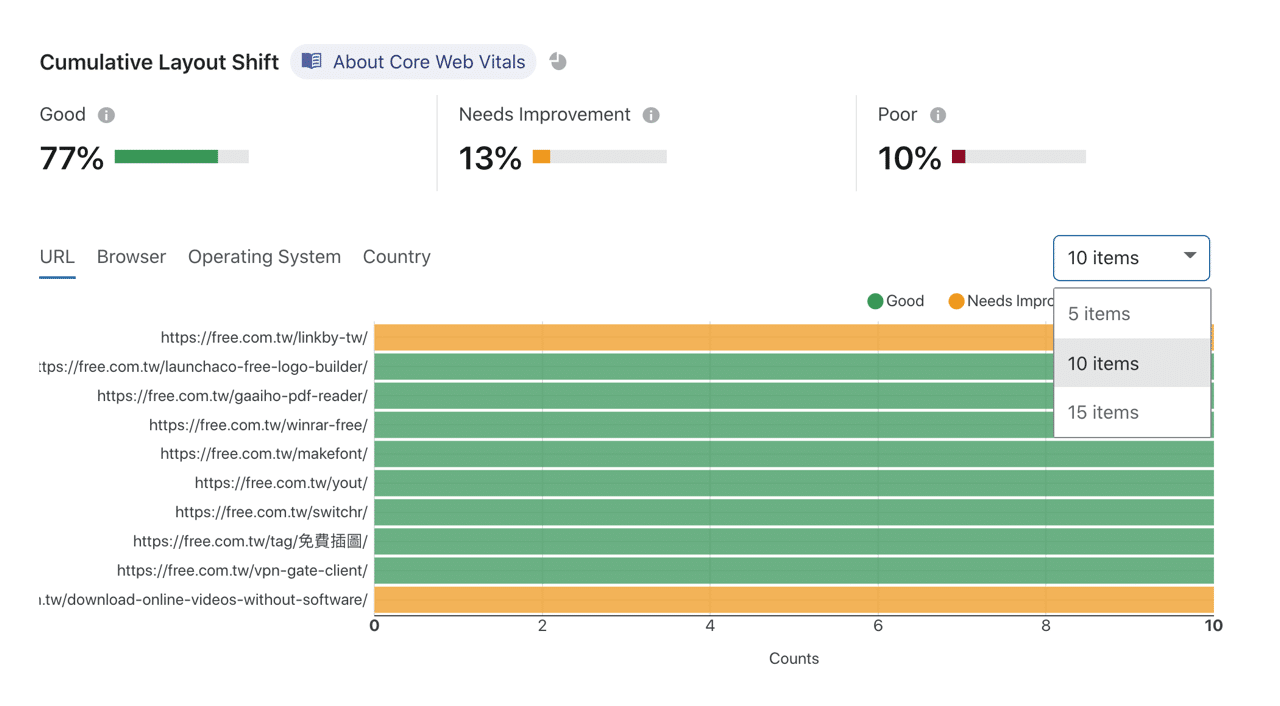 STEP 5
In addition to displaying the status of Core Web Vitals by the URL, you can also select the browser, operating system, or country. You can quickly cross-check and find the problem by adding a specific country or URL using the " filter criteria " method. The overall operation flexibility is very large. This information is also easy to collect, and no additional manual settings are required.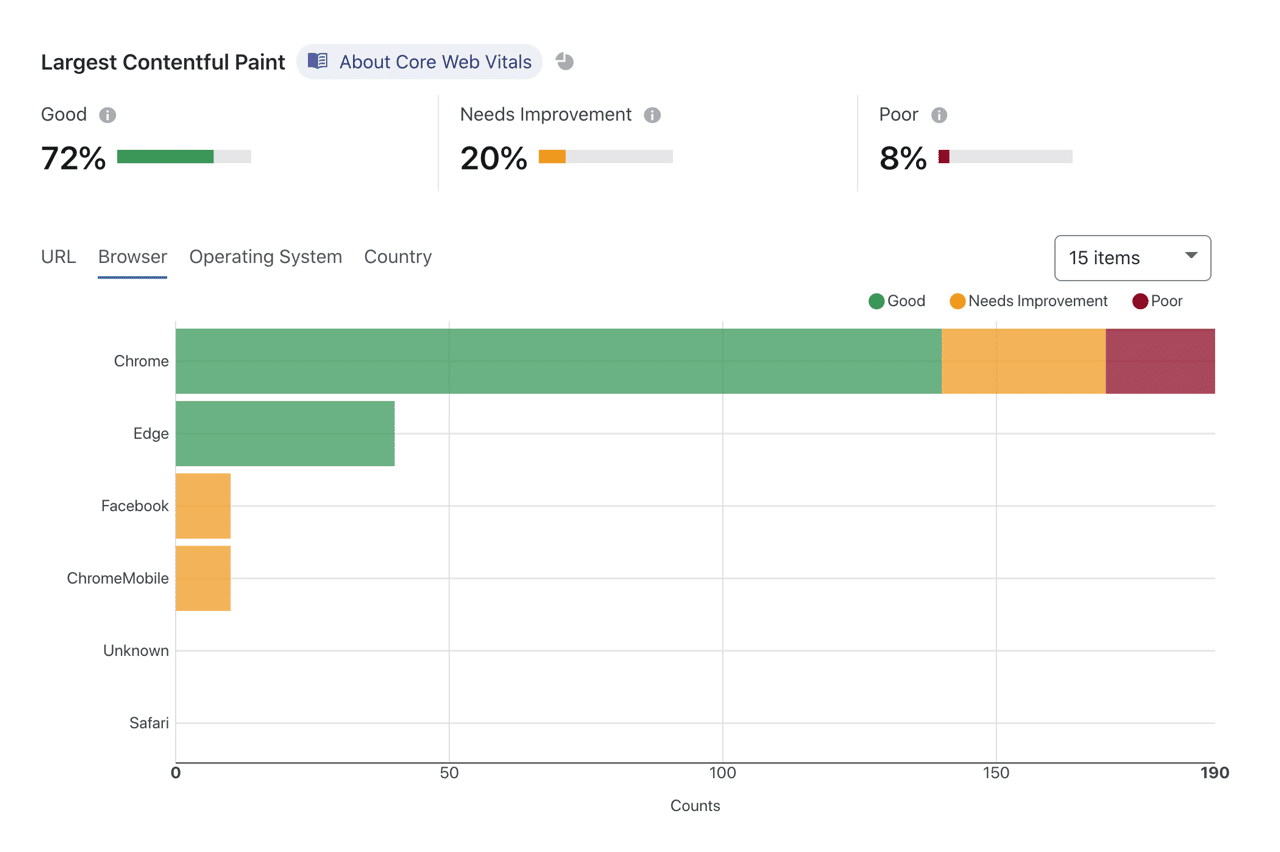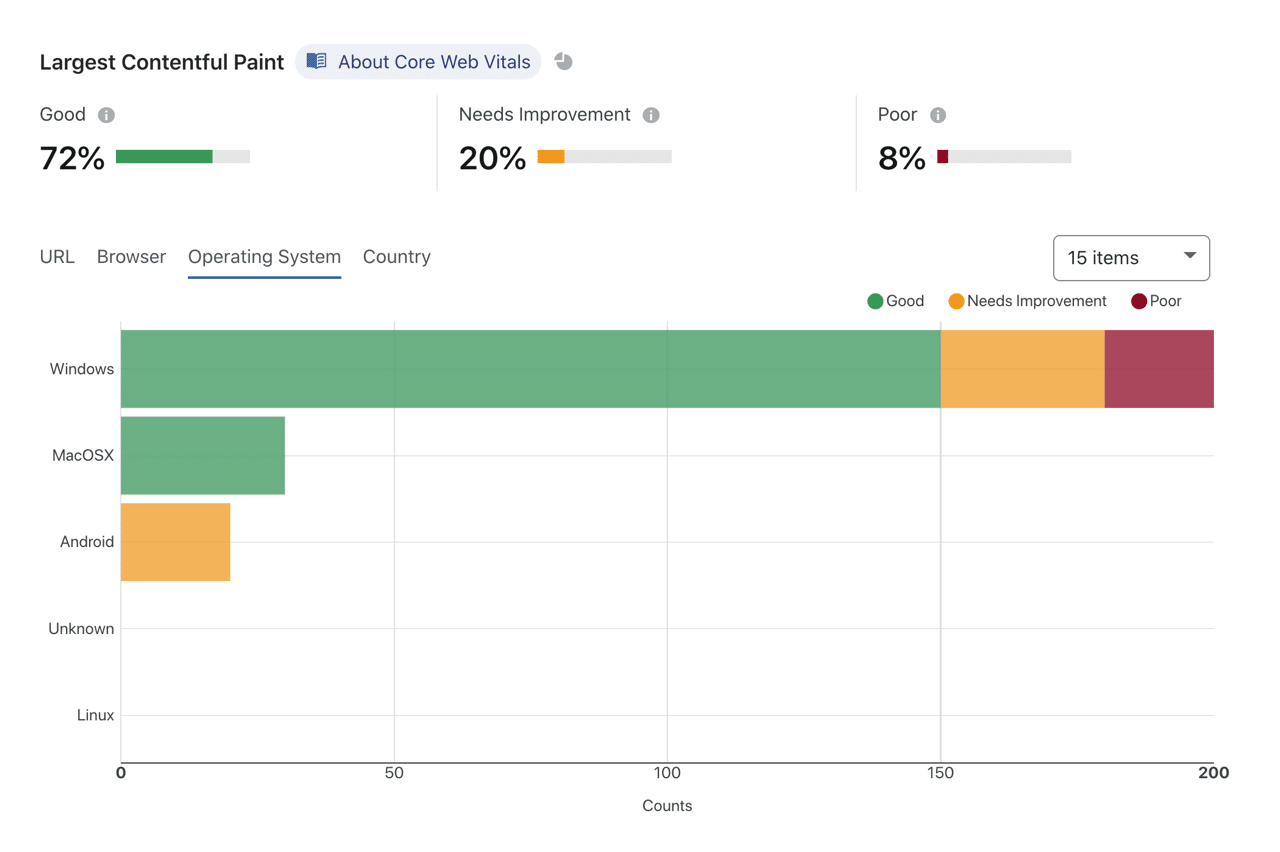 STEP 6
Another original function of Browser Insights, " Page Metrics ", will collect web page metrics, display loading time, parsing time, time spent executing JavaScript, etc. in graphs. It can also display popular countries based on page load volume, and you can get Know whether the loading speed of the webpage in a specific country provides a good user experience.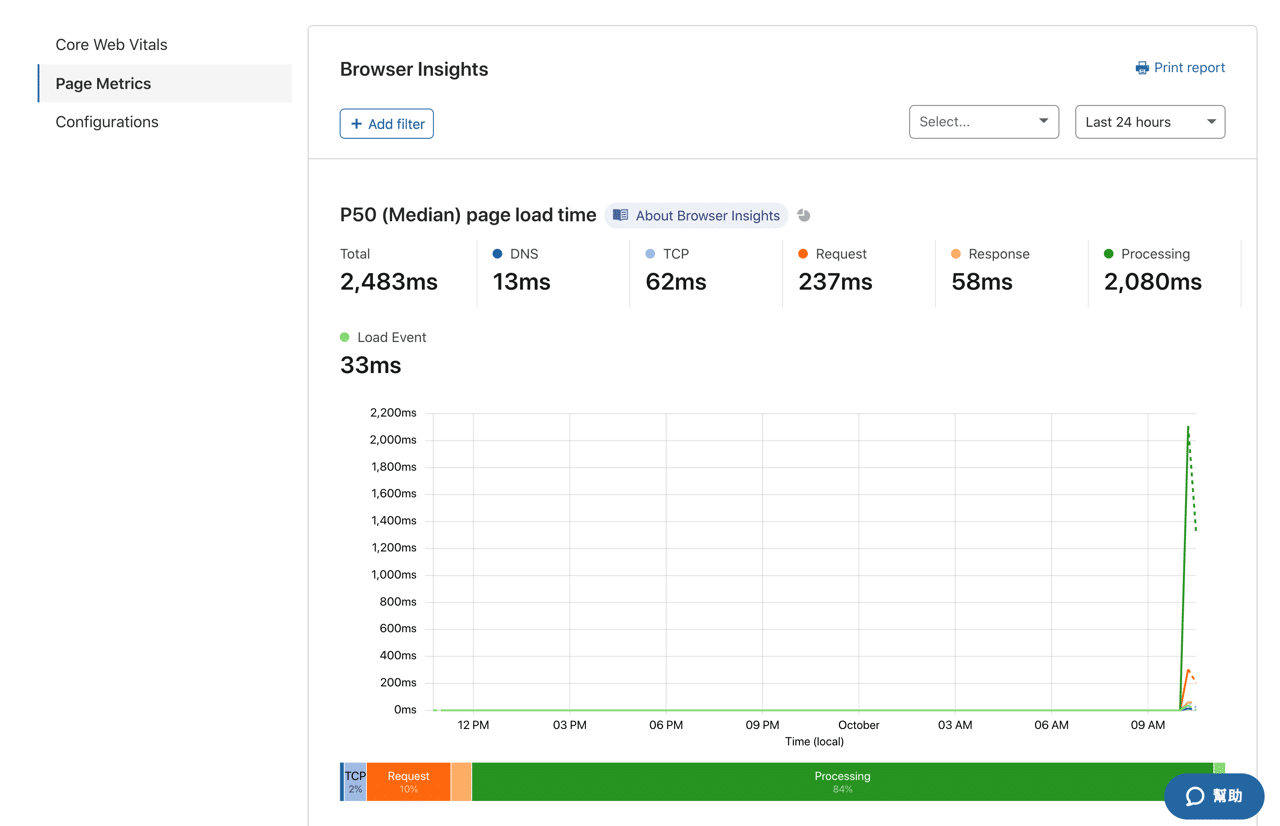 Three reasons to try:
Cloudflare provides Browser Insights function to collect website performance information
Automatically add JavaScript to the web page and customize measurement rules
Collect and analyze the core index of website experience (Core Web Vitals)