Google Pixel 5a 5G Review
Introduction

:

The Google Pixel 5a Review is the third iteration of Google's Pixel "a" Series: smartphones based on the Google Pixel experience made with lower-cost entry points in mind.

There's also now more emphasis on battery life and water resistance. The latter is a welcome feature to the "a" Pixel family. The phone Is very similar to the Pixel 4a 5G in size, appearance, and specs. They aren't identical, but pretty darn close.

Although it has the same chipset, RAM, and layout, the dimensions are slightly different, less than a millimeter difference in each dimension. The battery capacity is significantly better: about 15% more capacity than the Pixel 4a 5G. The phone's construction is now made of a sturdier aluminum and resin unibody construction like the Pixel 5. The new build is also IP67 water resistant.
Google Pixel 5a 5G specs at a glance:
Body: 154.9×73.7×7.6mm, 183g; Glass front (Gorilla Glass 3), aluminum/plastic unibody; IP67 dust/water resistant (up to 1m for 30 mins).
Display: 6.34″ OLED, 60Hz, 1080x2400px resolution, 20:9 aspect ratio, 415ppi.
Chipset: Qualcomm SDM765 Snapdragon 765G (7 nm): Octa-core (1×2.4 GHz Kryo 475 Prime & 1×2.2 GHz Kryo 475 Gold & 6×1.8 GHz Kryo 475 Silver); Adreno 620.
Memory: 128GB (non-expandable), 6GB RAM.
OS/Software: Android 11.
Rear camera: Wide (main):12.2MP, f/1.7, 27mm, 77˚ (wide), 1/2.55″, 1.4µm, dual pixel PDAF, OIS; Ultrawide angle: 16 MP, f/2.2, 119˚, 1.0µm.
Front camera: 8 MP, f/2.0, 24mm, 83˚ (wide), 1.12µm.
Video capture: Rear camera: 4K@30/60fps, 1080p@30/60/120/240fps; gyro-EIS; Front camera: 1080p@30fps.
Battery: 4680mAh; Fast charging 18W.
Misc: Rear-mounted fingerprint reader; 3.5mm jack.
The Google Pixel's cameras are of the biggest selling points for the Pixel phones, but you'll soon learn that its hardware is exactly the same as the 4a 5G and the Pixel 5's, verbatim. We don't anticipate there to be any significant difference in camera quality. Performance is also predictably decent on the Snapdragon 765G paired with 6GB of RAM.
These changes do come with a price hike. The Pixel 5a is the most expensive "a" series ever at $449, but will the improvements to the hardware retain their value in the long term? Is the Pixel 5a a solid entry into the Pixel family?
Unboxing
Under the plastic-wrapped Pixel 5a you'll find a USB-C to C charging cable, an 18W USB-C charger, and a USB-C to USB-A adapter which Google calls its "Quick Switch Adapter". This lets you transfer data from another phone to the Pixel 5a.
Metal and plastic unibody
Remember the metal/plastic hybrid design that was used on the Google Pixel 5 last year? Well, the Pixel 5a utilizes the same construction philosophy. The plastic exterior is built around an aluminum diecast piece that reinforces the unibody's construction.
Even though the Pixel 5a is made of plastic, you can still feel the coolness of the aluminum seep through to the exterior. Along with this new construction, the 5a is now certified for IP67 water resistance.
The texture doesn't feel quite the same as the Pixel 5's, which felt somewhere between plastic and ceramic.
The grain on the Pixel 5a's plastic is matte and smooth, though the "Mostly Black" finish on this Pixel 5a is a lot like Apple's "Midnight Green", only a little darker and made of plastic. The 5a's finish doesn't grip as well as the Pixel 5's grittier finish. It's also not very resistant to fingerprint smudges. If you can get over the smudges, the phone feels durable enough to carry without a case.
We continue to compare the 5a to the Pixel 4a 5G since they are so close in dimensions. At 154.9×73.3×7.6 mm, the 5a is just 1mm longer, 0.3mm narrower, and 0.6mm thinner than the 4a 5G. It also weighs more at 183g (4a 5G was 168g).
There's nothing new or original about the 5a's design. It has the same look and feel as three other Pixel smartphones: the Pixels 4a, 5, and 4a 5G. All have plastic unibodies, rear-mounted fingerprint scanners, and punch hole selfie cameras adorn the upper left corner of the screen. This punch-hole is as small as they come, so no complaints there.
The display is ever so slightly longer, bumping the size from 6.2 to 6.34 and changing the aspect ratio from 19.5:9 to 20:9 (compared to the 4a 5G). That OLED panel is protected by a flat slab of Gorilla Glass 3, and an in-call speaker slit sits above the screen. This doubles as one of the phone's loudspeakers.
The bezels are nicely thin all the way around, making for a uniform design that's pleasing to the eye.
Moving up to the top edge, the Pixel 5a has a 3.5mm headphone jack – a regular feature of the Pixel "a" Series. To the right of that is a microphone.
All buttons are on the right side of the phone. The volume rocker sits below the power key, which has a new wavy texture. The 5a's predecessors had smooth matte power keys, while the Pixel 5 used a glossy metal one.
The left side of the phone has the single nanoSIM tray, and the bottom contains (from left to right) an in-call microphone, USB-C port, and loudspeaker.
Around back is the same camera setup from the Pixel 5 and 4a 5G, including a 12.2MP main camera and 16MP ultra-wide. The ol' faithful rear-mounted fingerprint scanner is easy to find by feel alone.
Aside from being uninspiring, the build is sturdy, while water resistance is an added plus. We do wish there were more exciting colors, and we wish Google went with the grittier finish that was on the Pixel 5 here, as it would help with grip and it may hide smudges a bit better
Google Pixel 5a Display
The Google Pixel 5a sports a 6.34″ OLED screen with a traditional 60Hz refresh rate. This display has a resolution of 1080×2400 px, coming out to about 413 ppi. Support for HDR video is nice to have on this bright and vivid screen. The OLED panel is protected by Gorilla Glass 3.
In our brightness measurements, the 5a maxes out at 508 nits when brightness is adjusted manually. Google advertised a maximum brightness of 800 nits, and we were happy to see that our readings surpassed even Google's estimates. With Adaptive brightness enabled, we were able to achieve 861 nits of peak brightness. Indeed impressive, performing just as well as Samsung's entry-level Galaxy S21.
The minimum brightness tested was 2.2 nits, comfortable enough to use in the dark, just as it is easy to see in bright daylight.
The 5a's display comes tuned to the DCI P3 color space (Adaptive mode) and offers an sRGB (Natural) mode. If both of those are too saturated or not saturated enough for your liking, Boosted mode is a nice balance between the two. Even so, the default Adaptive profile is pleasantly saturated.
The Natural setting yields the most accurate colors with an average deltaE of 1.3 and max deltaE of 2 deviations. Maximum brightness and color calibration are both strong points for the Pixel 5a's display, as well as its size. The size sits in a sweet spot that's not too large nor too small.
Sadly, there's no high refresh rate capability on this display and it's limited to 60 Hz. Not a deal-breaker, but considering the feature is widely seen on many mid-range and entry-level smartphones, we can't help feel some disappointment that we don't get it here.
The Pixel 5a's display is compatible with HDR content, though the app will specifically need to support HDR playback for the Pixel 5a, such as with the Netflix app. YouTube offers HDR compatibility, and there's a lot of HDR content you can watch.
Aside from not using a higher refresh rate to enhance the experience, there's not much to complain about on the Pixel 5a's OLED panel. It's excellently bright and amply sized for content consumption. It's also well-tuned for color accuracy and pleasantly vivid by default.
Google Pixel 5a Battery life
The phone is equipped with a considerably larger battery compared to its predecessors. The Google Pixel 5a has a 4,680 mAh battery, which pairs nicely with the power-efficient Snapdragon 765G. We expected to see great battery life here, and we have to say we were not disappointed with the results.
The Google Pixel 5a receives an overall score of 122h, the highest of any Google Pixel device that we've tested. The previous record for a Pixel device was held by another "a" Series Pixel, the 3a XL scored 98h (overall) when we reviewed it.
Google appears to be using a much more power-efficient display panel, which managed impressive web and video scores of 18:27h and 21:32h, respectively. Combined with a call score of 32:57h and great standby times, the Google Pixel 5a 5G can delve into two-day battery life depending on your usage.
We were quite surprised with the Pixel 5a's screen-on performance. We actually thought the web test result seemed kind of high that we had to run it more than once to confirm our results.
Charging speeds
The Pixel 5a ships with the same 18W USB-C charger we've seen included with several Pixels before. It's rated at 5V@3A and 9V@2A, and using a faster adapter won't make it charge any quicker.
The Pixel 5a reached a 42% charge in 30 minutes and 75% after one hour. A full charge was finally achieved about 1h40m after plugging in. While the charging speeds aren't as impressive as other devices we've seen in this price range, battery endurance makes up for it.
Stereo loudspeakers
Unfortunately, we're unable to replicate our usual in-studio sound test from where we've conducted our review of the Pixel 5a 5G. Still, we can offer a few words about how these loudspeakers sound.
The Pixel 5a's stereo speakers are plenty loud, and they don't suffer from distortion at maximum volumes. Listening to voice-only audio like podcasts or YouTube videos through these loudspeakers is very pleasant. You can hear depth in spoken word with no noticeable distortion. Cranking up the volume to show a few co-workers a funny video shouldn't be a problem with this phone.
Drum and bass tend to drown out at anything above 60% volume when listening to music. You can kind of make out most of the music's nuances and instrumentals when listening at around 50% volume, but anything higher than that will make the track sound tinny and small.
Android 11 now, 12 later
The Pixel 5a comes pre-loaded with Android 11, but will soon be updated to Android 12 (currently in beta testing). We're also preparing a full review of Android 12 so we'll go over some of the Pixel-exclusive features that are ready to go out of the box.
One of the newer Pixel features is "Hold for me". This detects when you're on a phone call where an operator may be putting you on hold – Google Assistant will offer to wait in your place. What this will do is let you exit the call screen and continue what you were doing until someone gets back on the line.
When Google Assistant hears someone on the line, it will notify the operator that you'll be will be with them shortly, all while pinging you to hop back on the call. You can also decline or answer phone calls by using voice commands with Google Assistant.
One more call feature here: Call screen is a great feature that lets Google Assistant answer calls from unknown phone numbers, so you don't have to. When there's an incoming call, you'll have the option to answer, decline, or Screen Call.
It will ask the caller to offer more information about why they are calling. Robo calls don't make it past this screen and always disconnect the call. You can then block and report the number as spam.
If there is someone on the line, whatever they say will be transcribed in real-time and fed to you on the screen. If deemed worthy, you can jump into the call. Think of it as the modern-day answering machine.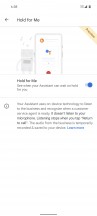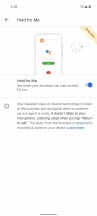 Hold for me settings
One more call feature here: Call screen is a great feature that lets Google Assistant answer calls from unknown phone numbers, so you don't have to. When there's an incoming call, you'll have the option to answer, decline, or Screen Call.
It will ask the caller to offer more information about why they are calling. Robo calls don't make it past this screen and always disconnect the call. You can then block and report the number as spam.
If there is someone on the line, whatever they say will be transcribed in real-time and fed to you on the screen. If deemed worthy, you can jump into the call. Think of it as the modern-day answering machine.
One of Pixel's unique features is Google's powerful audio recording app. This comes pre-loaded onto the Google Pixel and transcribes audio directly into text, even without an internet connection. This feature showcases Google's strong speech-to-text capabilities and leverages Google cloud storage with the ability to backup recordings to Google Drive.
What's nifty is you can trim or edit voice recordings by simply cutting paragraphs of text, and the audio version will reflect that. This has so much potential for 'trimming the fat' out of lectures and meetings or re-arranging ideas from an interview to make them tell a story.
Moving along to the device's everyday features, view and reply to message notifications directly from the lockscreen. You can also send message notifications to "Bubbles" so you can continue the conversation without being completely pulled out of another app.
When enabled, Now Playing shows you the track playing where you are. It can ID music tracks playing in the background and will keep a record of all the music it tags so you can go back and see if it found that one song you heard at that one place.
In the home screen, you'll find the "At a Glance" widget, which shows various information depending on context. It usually shows the day of the week, date, and current weather, but it will sometimes show upcoming calendar events, reminders, and weather alerts. It can also show upcoming alerts from a work profile if applicable.
We like the snappiness and smoothness of Android 11 on the Pixel 5a, and we anticipate that Android 12 will be just as smooth, if not smoother, once it arrives.
Performance
Google stuck to the same midrange chip that came on the Pixel 5. The Snapdragon 765G is built on the 7nm process and is a solid choice for a balance between performance and efficiency. 5G is supported on this chipset through the integrated X52 modem, though only the sub-6GHz kind.
This chipset has two core clusters. The first is a performance cluster with dual ARM Cortex-A76 cores clocked at 2.2GHz and 2.4GHz. The other cluster is made of six smaller ARM Cortex-A55 cores with clock speeds up to 1.8GHz. Graphics are powered by the Adreno 620 GPU.
Like its predecessors (4a and 4a with 5G), the Pixel 5a comes equipped with 6GB of LPDDR4X RAM and 128GB of UFS 2.1 internal storage. There is only one memory variant, and the storage isn't microSD card expandable.
Back when we reviewed the Pixel 5, we found performance underwhelming. It felt like the Snapdragon 765G was under-tuned to compensate for the added battery draw that 5G brought with it.
With the larger battery, we are expecting to see somewhat better results out of these benchmarks. Even so, day-to-day performance is what the Pixel is known to excel in, and this was true of the last models with midrange chipsets.
Let's look at the performance benchmarks. We compare it to both the Pixel 4a and the Pixel 5, as well as a couple of other devices running the same chipset. We also included the Dimensity 1200 and the Snapdragon 780G.
In Geekbench 5, the Pixel 5a was at the bottom of the charts. On this test, it scored the lowest among other Snapdragon 765G devices, while the Pixel 4a's Snapdragon 730G yielded a higher multi-core score. It doesn't look good for synthetic benchmarks so far.
The Adreno 620 GPU is adequate for handling modern games. It would be nice if the Pixel 5a supported a refresh rate higher than 60Hz, but it won't matter much for gaming since the Pixel 5a's graphics performance isn't exactly stellar. The Snapdragon 778G on the Realme GT Master and the MediaTek Dimensity 1000+ of the Oppo Reno5 Pro 5G both show a significant advantage in frame rates above the Snapdragon 765G.
In AnTuTu tests, the Pixel 5a did about the same as last year's OnePlus Nord, and the Samsung Galaxy A52 5G performed a little bit better running the Snapdragon 750G.
The Snapdragon 765G is a nice fit for the Pixel 5a overall. Although we argued against it for the Pixel 5's case given the retail price, the Pixel 5a's price range suits the 765G better for both popular games and daily tasks. Multitasking feels quick and effortless, even when switching between resource-hungry social apps.
While we certainly were not impressed with the Pixel 5a 5G's thermal management, it did OK for the most part. We tested the phone under constant loads and checked the throttling using two apps.
This is perhaps due to the Pixel 5a's plastic and metal unibody construction, which makes it harder to properly conduct heat to the phone's exterior. While there weren't any major drops in performance, the Pixel 5a did struggle with maintaining maximum performance over time which shouldn't have been too much of a challenge with this midrange chip.
To sum up performance, the Pixel 5a is not among the best performers, but it's good enough. It will perform well enough for the average user, and it should be more than enough to keep up with socials, emails, messaging, and casual gaming. If you are someone who will continually use a smartphone for long periods without breaks, you might want to look at something with better thermal management.