Simple Ops is the simplest website performance monitoring service
Although many website monitoring services have been introduced, most of them still focus on monitoring uptime (Uptime), Simple Ops is the simplest website performance monitoring service
which is currently a more mainstream monitoring item. When the website cannot be connected normally, it will be sent through Email, SMS, or other channels. Alerts allow managers to fix problems in the shortest time and reduce the loss caused by the inability to open the website.
In addition to the normal connection, there are actually many factors that can be monitored (after all, a website is not just a simple matter of whether it can be opened), such as performance, speed, and core indicators of website experience, etc., may be due to time or Update and change.
The " Simple Ops " to be introduced in this article is a comprehensive website monitoring tool. Basic functions are provided free of charges, such as health indicators, performance indicators, and core website experience indicators. It can also monitor speed, online rate, SSL certificates, and Chrome usage.
User experience, speed changes of multiple nodes around the world, integration of Email, desktop notification, Telegram, Slack, Messenger, and other instant communication channels, and immediately send alarm reminders when there is an abnormality in the monitoring project.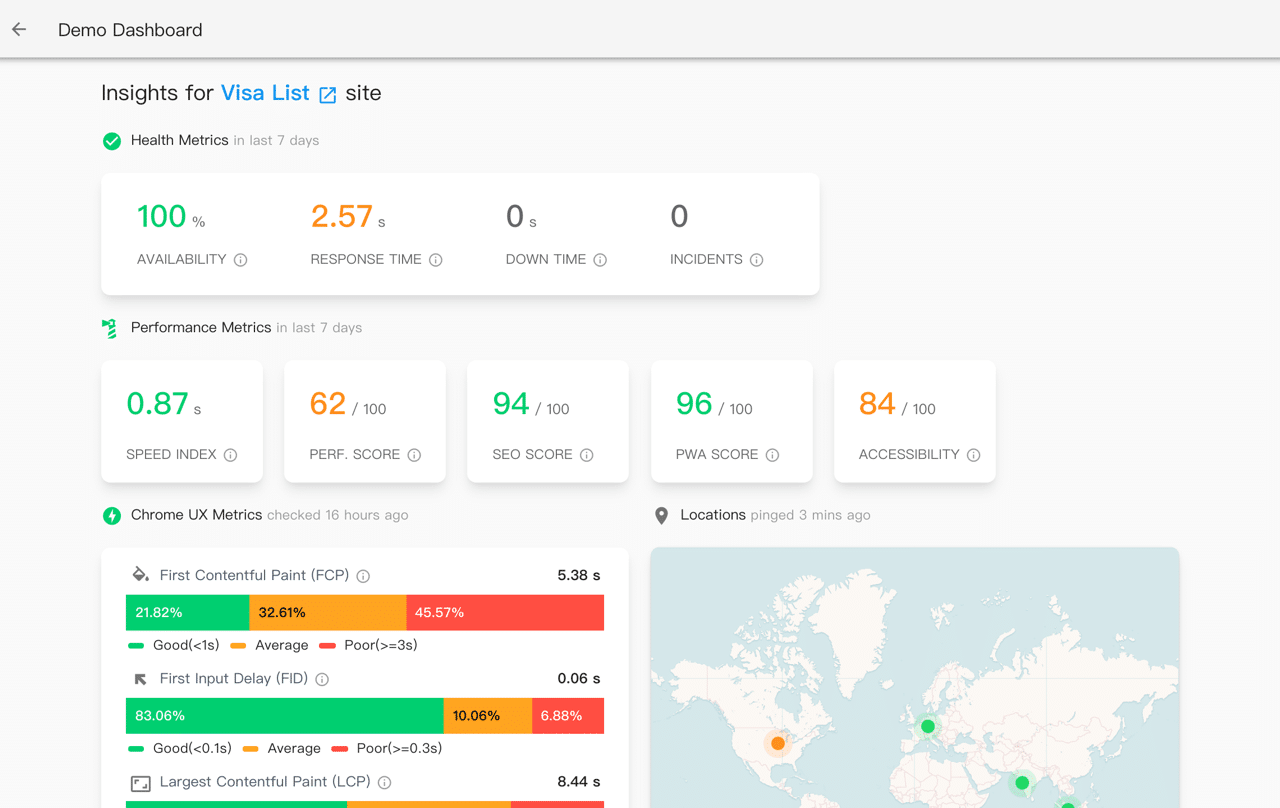 The Simple Ops monitoring point is preset to the United States. After a paid upgrade, you can join Germany, Singapore, India, and Australia to monitor nodes in different countries to obtain more accurate data. It is worth mentioning that Simple Ops can monitor the Google Lighthouse Pagespeed score and improve Website speed and performance;
the core indicators of the website experience that Google attaches great importance to LCP (maximum content drawing), FID (first input delay time), and CLS (cumulative layout transfer) can all be monitored through this service.
Finally, to summarize, Simple Ops transforms the various items that website managers will frequently detect into monitoring services. You can obtain relevant information from one stop instead of separately selecting various services. This is more cost-effective, and secondly.
It is more conducive to the management and use of these records. At this stage, the pricing of similar monitoring tools is actually not too low. Simple Ops is a relatively inexpensive and easy-to-use option (a bit like Hexometer). Unlike Google Analytics or similar analysis services, JavaScript code must be added to the website for collection. Information, this service can be used immediately after setting.
Simple Ops
https://simpleops.io/
Use teaching
STEP 1
Open SimpleOps and click "Live Demo" to view real-time sample reports. The service will use Visa List as an example. If you want to start monitoring the website, you need to register an account. It supports Google, Facebook, Twitter, GitHub or Email, and the operation will not be too difficult. . As mentioned earlier, Simple Ops provides a free plan, which allows you to use the most basic monitoring functions without the need for a credit card.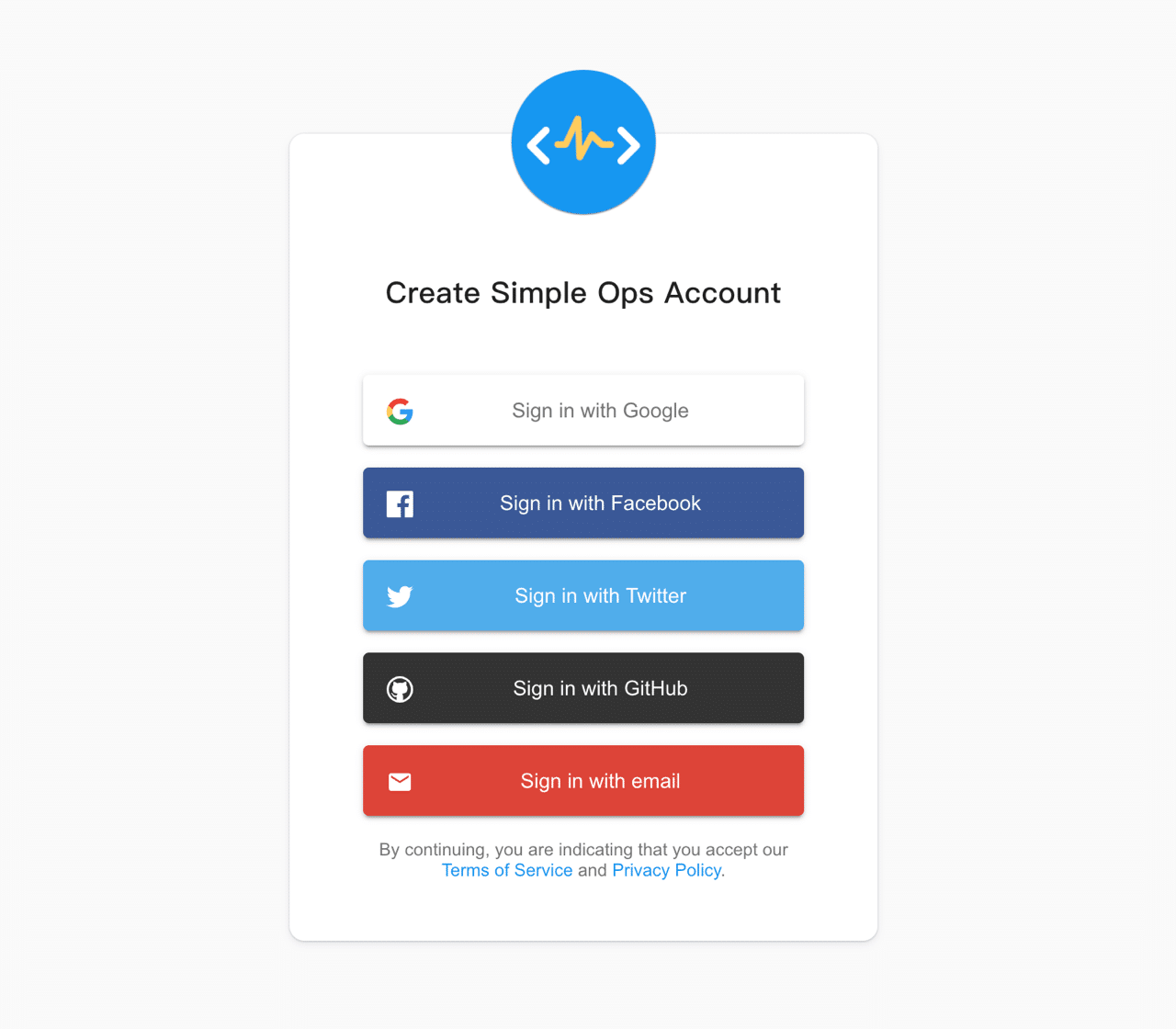 STEP 2
Log in to join the first site, enter the site name, website URL after clicking " Test " to test, monitor the current target only support httpsagreement.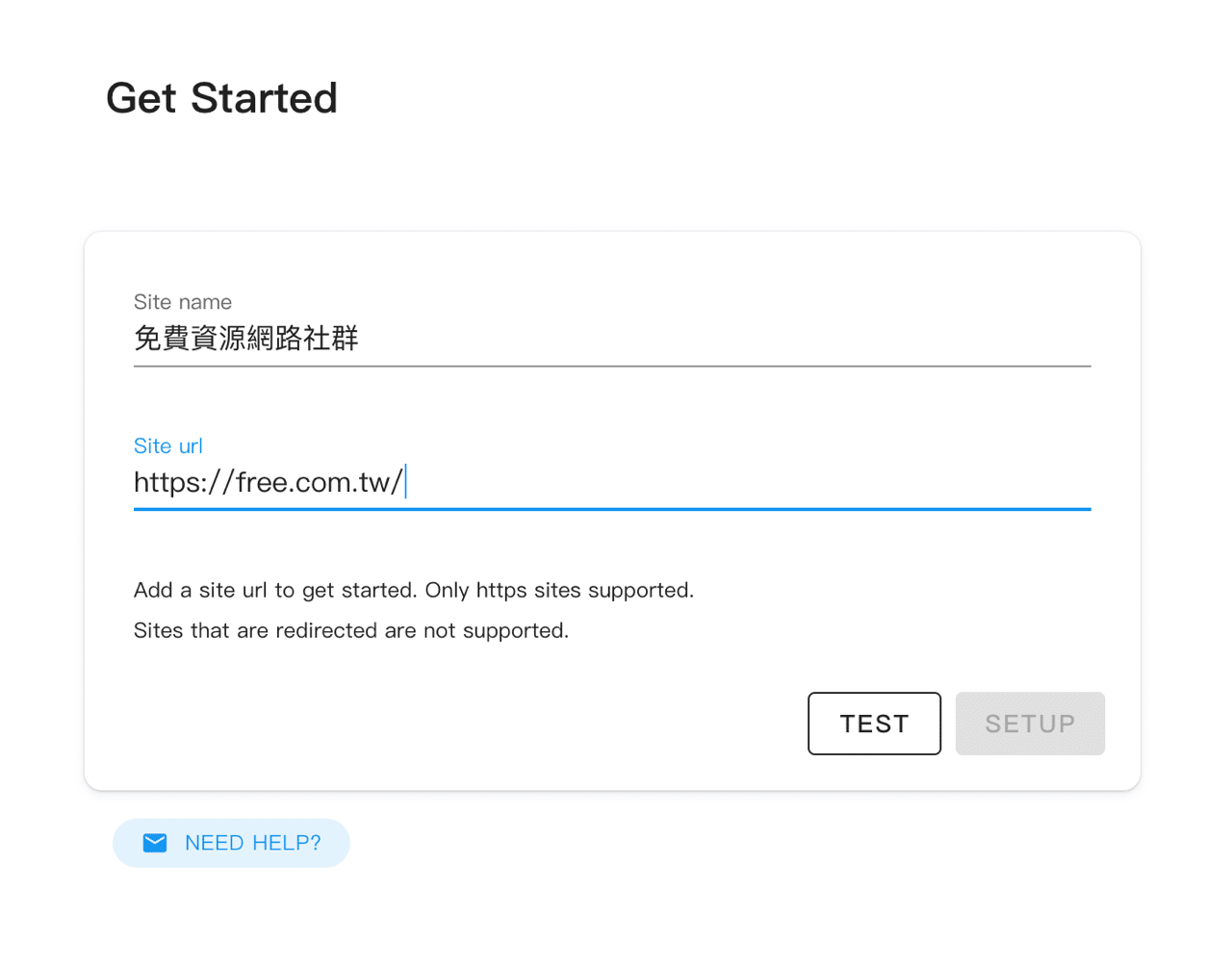 After passing the test, another button will light up. Press " Setup " to set the website to the Simple Ops service.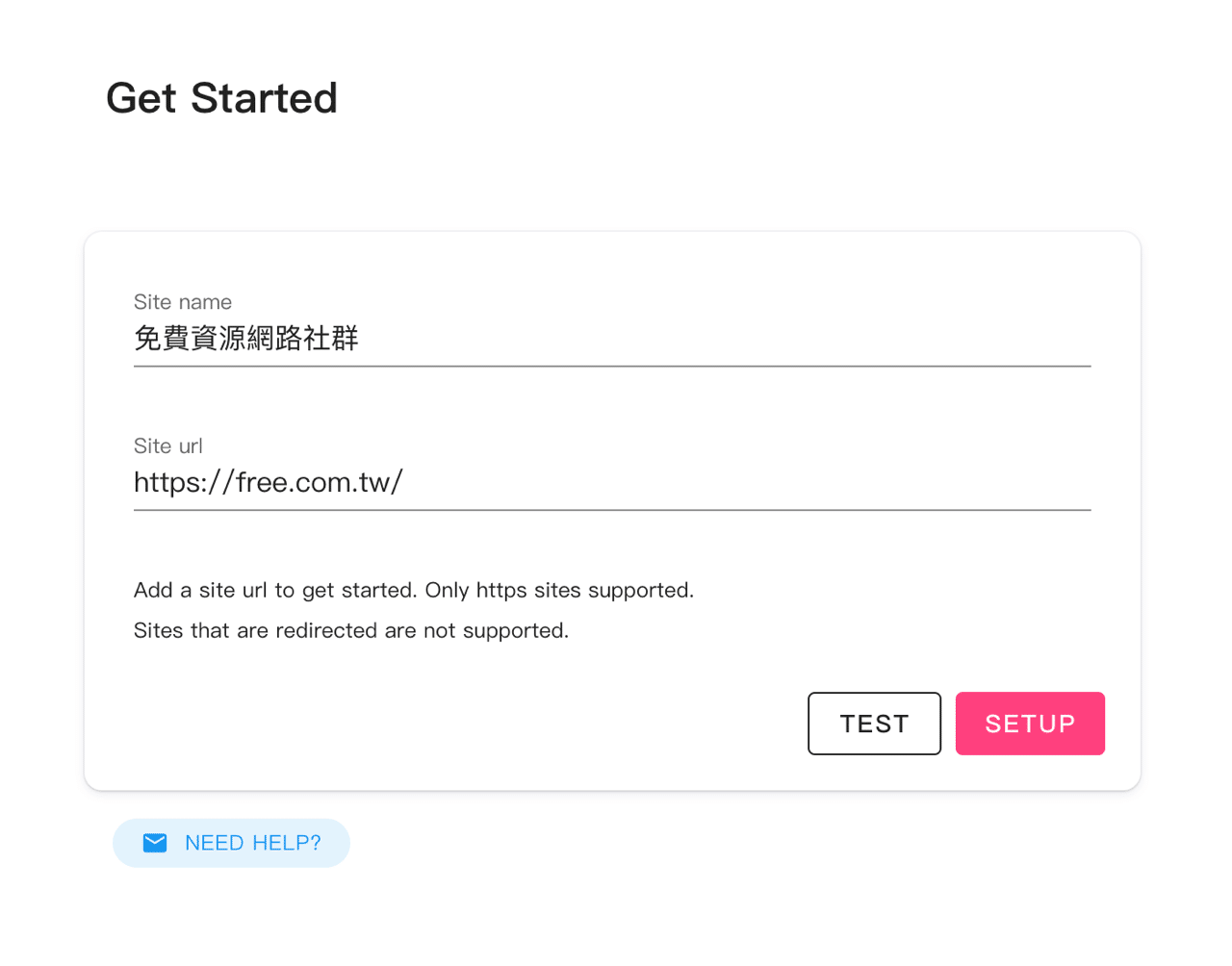 STEP 3
Simple Ops needs some time to detect and obtain relevant information about the monitoring target, including health indicators (availability, response time, unconnected time, number of errors), and performance indicators, Chrome user experience indicators and other data are displayed below. The classification of these data is quite clear, and it looks clearer and easier to understand after color marking.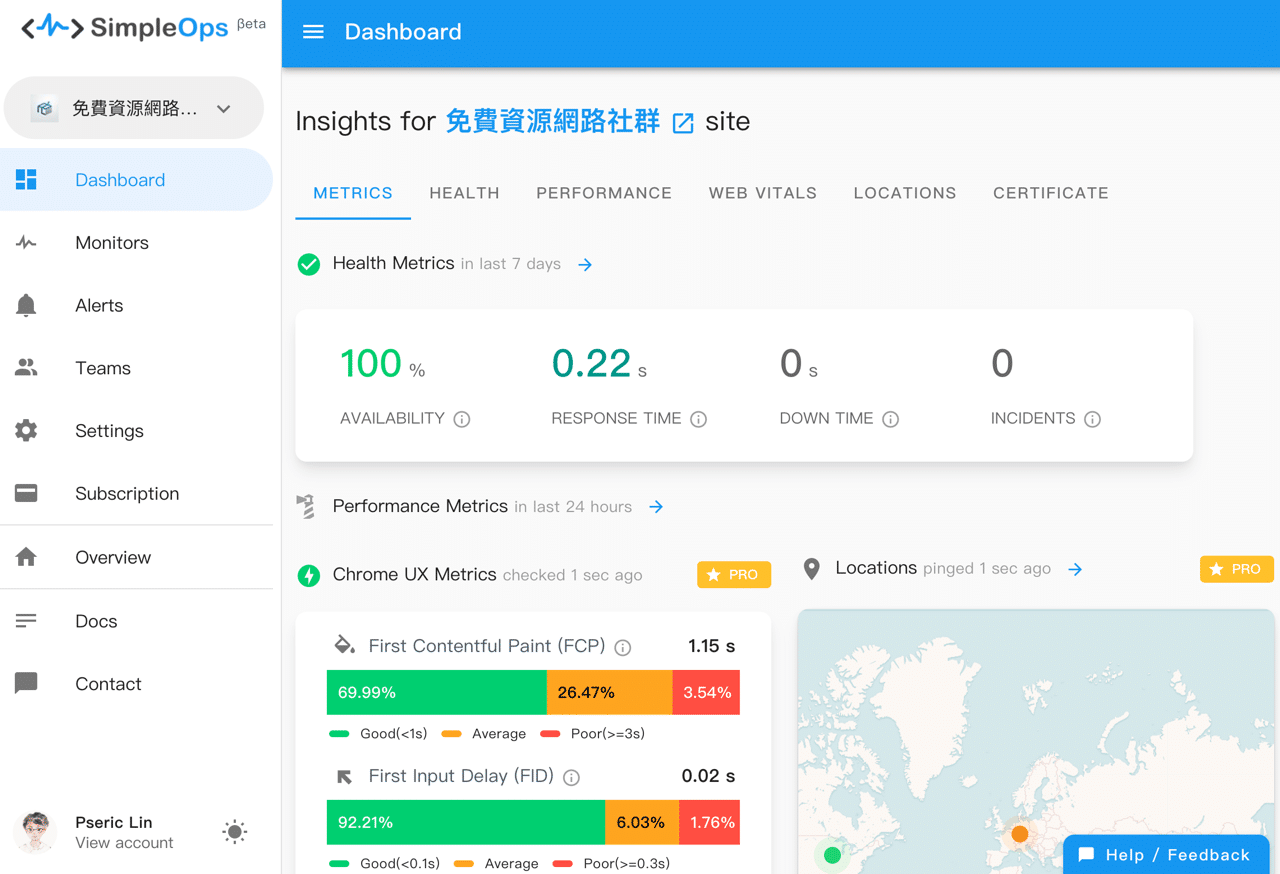 STEP 4
There will be more detailed data on each item. For example, the speed index, performance score, SEO score, PWA and usability score will be displayed in the performance category. Moving the cursor to the report will display the score at a certain time. The longer it takes, the more complete it will be, and the closer it will be to the real situation.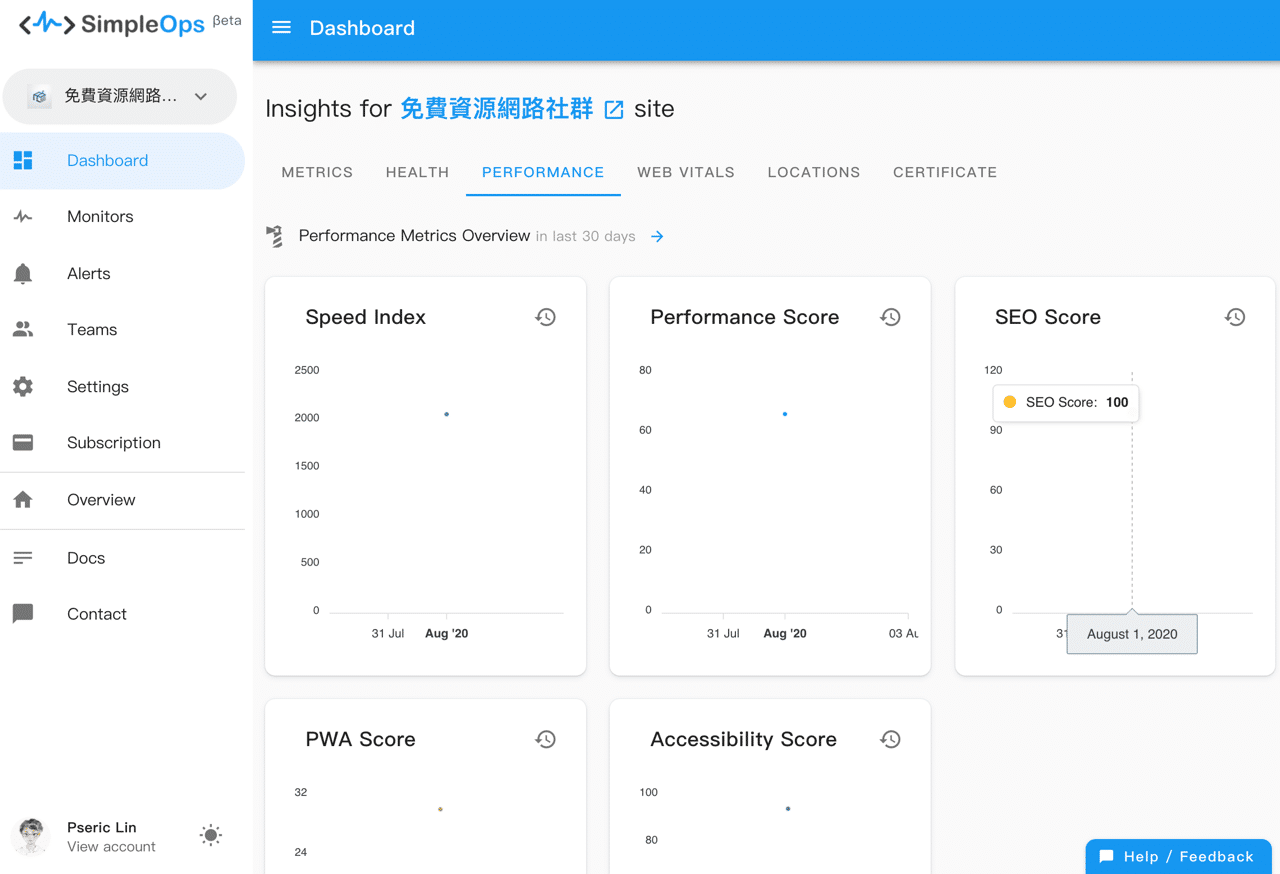 Some items collect information more frequently. For example, the website response time for health indicators can clearly see the changes in website response time at different points in time. It can also be displayed based on 24-hour, seven-day or 30-day records. According to Simple Ops instructions, free account records It will be stored for one month, and can be stored for up to one year after the paid upgrade.
STEP 5
Simple Ops can obtain website response speeds from the United States, Germany, India, Singapore and Australia, which is very helpful to understand the connection speed of the website in different regions, but the free plan can only support the United States, and you need to get more and more detailed information. Data must be upgraded for a fee (the one marked with an asterisk Pro next to it means paying for the upgrade to use the full function).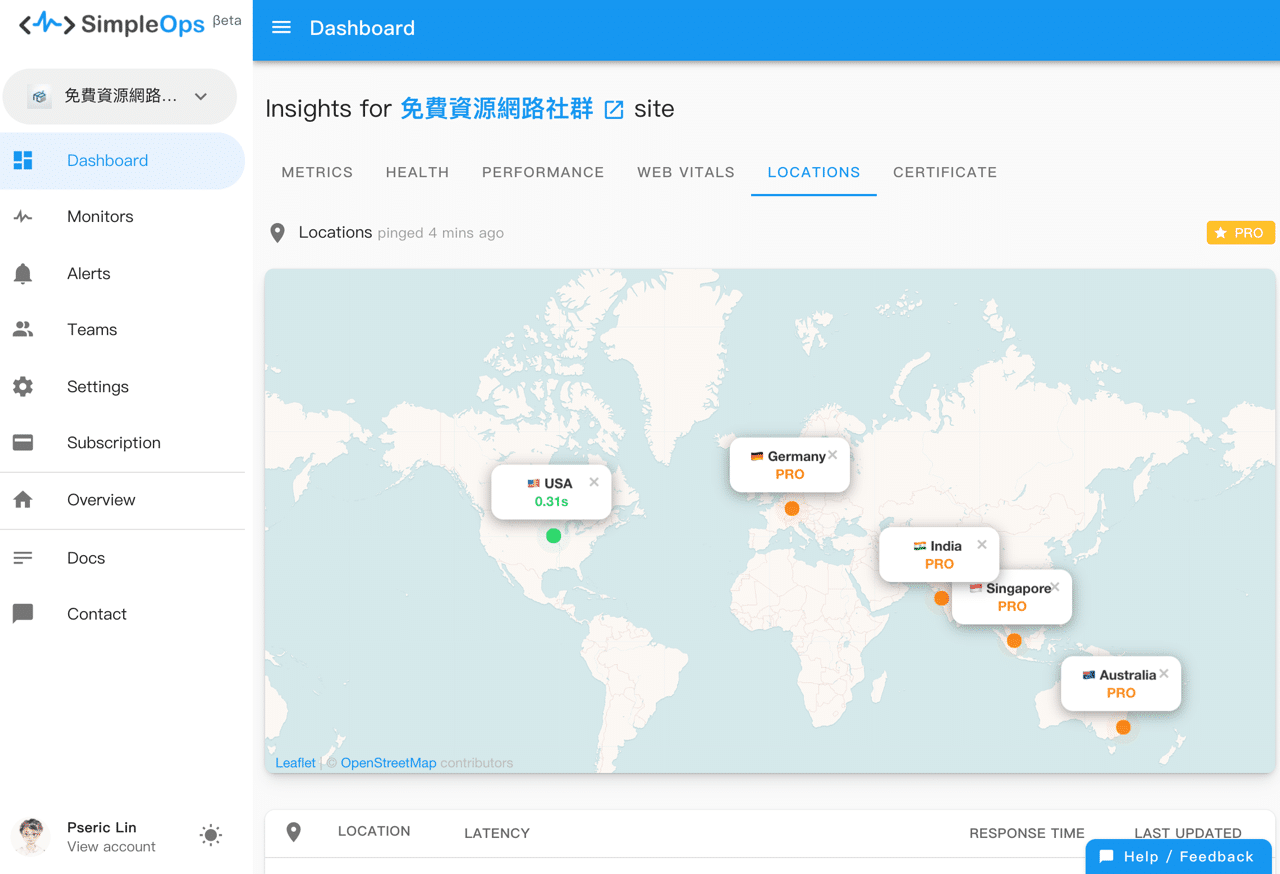 I personally think that another useful feature is the report on the " Monitor " page. This report will have various indicators and scores that Google Pagespeed can measure, such as performance, usability, SEO or PWA, etc. , Different colors will be marked according to the score. If it is yellow or red (serious problem), it is recommended to correct it according to the instructions below, so that visitors can get a better browsing experience.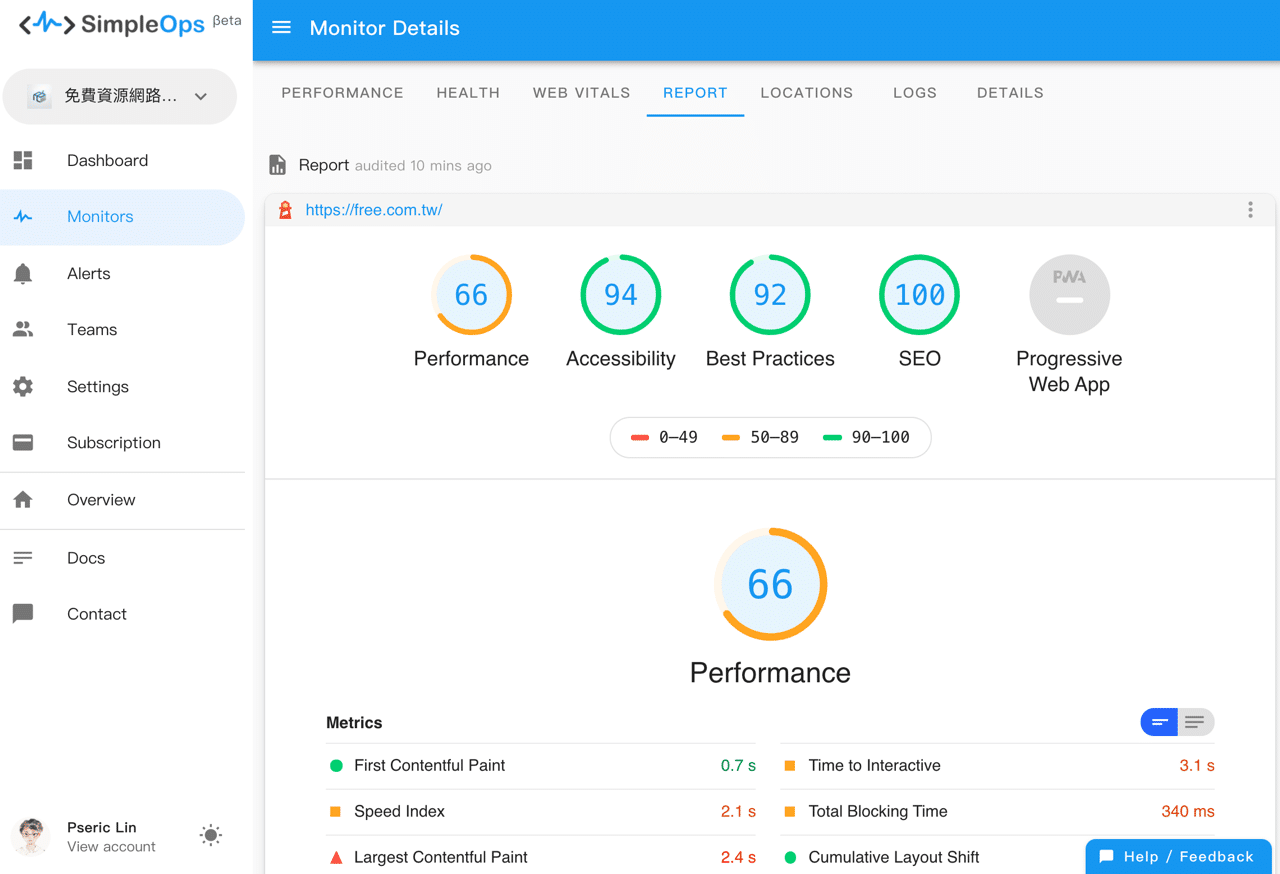 STEP 6
The previous introduction mentioned that Simple Ops is also a monitoring service that can monitor the online rate of a website, so how do I receive an alert notification when a problem occurs? Add different notification channels from " Alert Channels ". By default, there is only Email notification. You can choose to add desktop notifications or use Telegram, Slack, Messenger, Google Chat instant messaging software to receive notifications.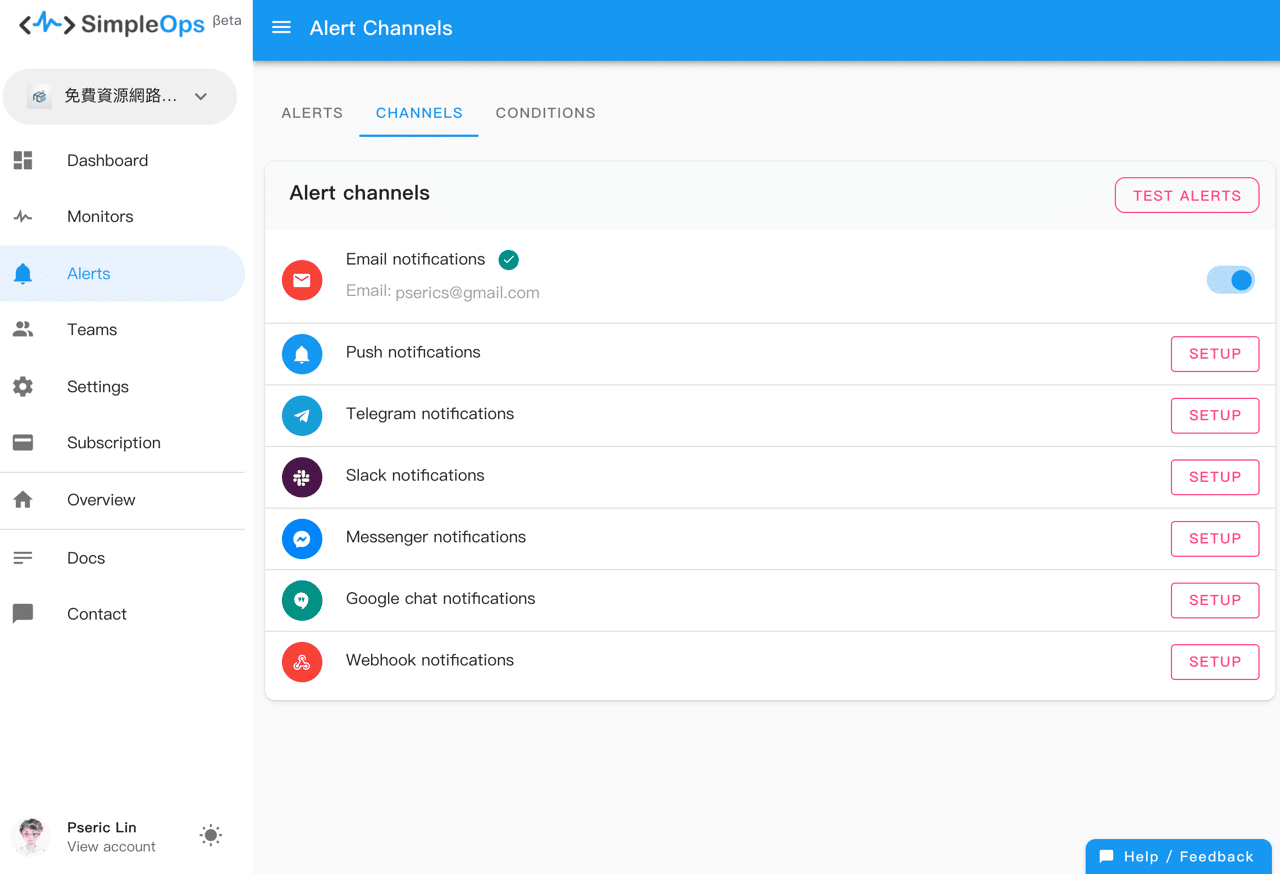 Simple Ops will not only send notifications when the website cannot be connected normally, but also can pre-set the minimum value of each score , such as performance, SEO, PWA or usability score, specify the speed index or the maximum response time delay, the same when triggering certain conditions Being able to remind managers is a very valuable part of this service.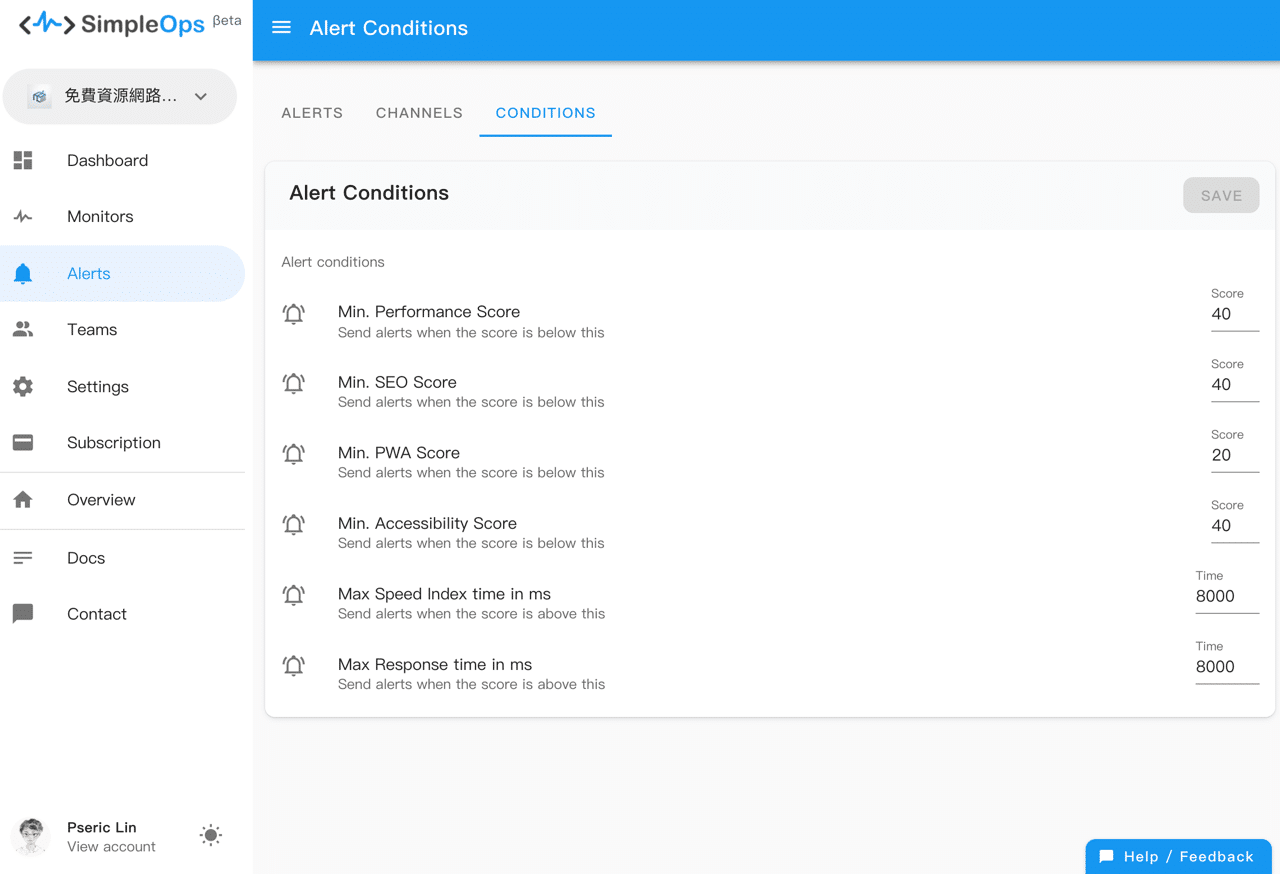 Provided at the beginning of operation Simple Ops price is more affordable " for life program " (Lifetime Access), although the purchase now is not the lowest price, but compared to a monthly or yearly fee, it will save a lot, especially if you want to monitor the site More number or pages. A one-year payment can save about two months, but Simple Ops already offers a free plan, and no refunds will be provided after payment.